Emergency Dentist — Waverly, IA
Fast Help for Smiles in Need
Dental emergencies are, by nature, sudden and unexpected. That's why it's a great reassurance to have a skilled and compassionate emergency dentist in Waverly, IA like Dr. Jonathan Smiley in your corner during these trying times. If you or a loved one is suffering from a severe dental injury or pain, please don't hesitate to contact Smiley Family Dentistry in Waverly, IA. In many cases, we're able to see emergency patients on the same day as their initial call, and in the meantime, we provide guidance for managing your situation.
Why Choose Smiley Family Dentistry for Emergency Dental Care?
Same-Day Emergency Appointments and Walk-Ins Available
Highly Trained and Experienced Dentist
Dental Insurance Accepted
What to Do in a Dental Emergency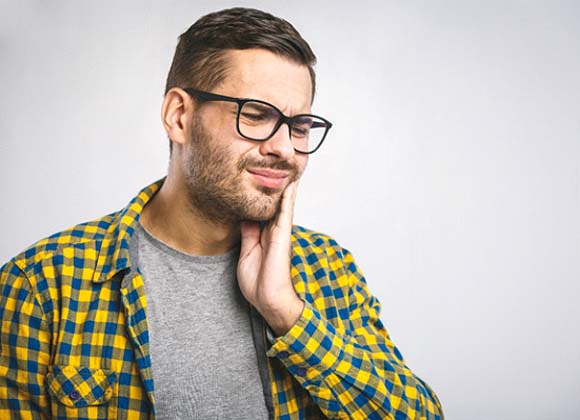 Get a same-day appointment scheduled: The minute you call our office, a team member will be ready to speak with you about your urgent symptoms, provide first-aid tips, and get an appointment set up for you ASAP. Ideally, we'll get you seen the same day for an emergency exam.
Get an emergency exam from our team: When you arrive, we won't keep you waiting long. Dr. Smiley will examine your mouth, take note of your symptoms, and work quickly to get you out of any immediate dental pain. If needed, digital X-rays may also be captured.
Review our findings and set up a plan: Once we know what's going on with your mouth, we can create a dedicated treatment plan. Before beginning any phase of treatment, you'll be informed of the estimated costs and timeline so you can make a decision about your care beforehand.
Get the care you need: Dental fillings, crowns, root canal therapy, and extractions are some of the most common treatments designed to resolve dental emergencies, but we may recommend other options if deemed appropriate as well.
The Most Common Dental Emergencies
While many dental injuries or problems are clearly emergencies, you may be unsure about other instances. Here is a list of situations that Waverly dentist Dr. Smiley would recommend immediate care for. If you notice any of them or are not sure if you're experiencing a dental emergency, don't hesitate to call our office immediately.
Understanding the Cost of Emergency Dentistry
Perhaps you think that you can "tough it out" and wait until your dental emergency goes away on its own. Well, think again! Oral problems never get better with time. They only progress and cause more damage, both physical and financial, the longer you wait to get treatment. For this reason, it is much wiser to seek help from Dr. Smiley as early as possible to keep your pain and your bill to a minimum. Read along to learn more about the cost of emergency dentistry in Waverly!
Every Dental Emergency Is Different

It's nearly impossible to provide an accurate estimate of the overall price of emergency dentistry over the phone. This is because every urgent dental situation is unique, meaning some may require a higher or lower fee for treatment than others. For instance, one person's severe toothache might get treated with a mere tooth-colored filling, whereas another might need a more costly root canal. By visiting our dental team, we'll be able to evaluate your condition and walk you through both your treatment and financing options so that you know what to expect.
Does Dental Insurance Cover Dental Emergencies?

Most dental insurance companies can offer coverage for emergency dentistry, as it involves major or "essential" procedures to preserve your oral health. Although our practice is only in-network with Delta Dental Insurance, we would be more than happy to accept plans from out-of-network providers as well. Since every policy varies from patient to patient, you'll want to verify the details of your benefits with your company before committing to any treatments. If you need help navigating your plan, feel free to contact our knowledgeable team. We'll be glad to help ensure that you make the most of your benefits while getting the dental treatment you need!
Other Options for Making Dental Emergencies Affordable

Don't have insurance? That's fine! You can consider exploring alternative financing options. Our team is proud to work with CareCredit—a third-party financier that can help split up the overall cost of your emergency treatment into more manageable monthly installments. Many of their plans also come with little-to-no interest, meaning you won't have to stress about being able to afford the essential procedures you need to maintain a healthy smile.
Taking Care of Your Smile Can Save You Money

Although our dental team is well-prepared and highly trained to address dental emergencies, it's typically best to avoid these urgent situations altogether. In fact, the majority of these cases can be averted by simply practicing preventive care or seeking early dental treatment. For example, recent studies have shown that most toothaches and dental injuries that need emergency procedures may have been completely avoided by getting cavity treatment or athletic mouthguards. To keep dental emergencies at bay, we strongly suggest visiting us every six months for regular checkups and cleanings. This way we can ensure that your oral health stays in pristine condition.
How to Prevent Dental Emergencies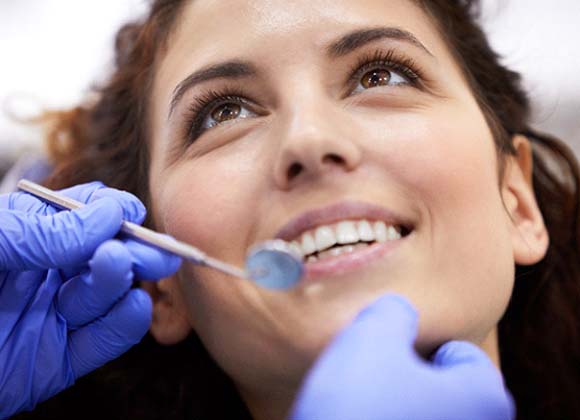 While many emergencies happen because of circumstances or accidents that can't be avoided, there are some tips that patients of all ages can take to heart when protecting their smiles. Here are some steps you can take to save yourself discomfort, time, and money!
Visit Your Dentist Regularly

Even if you don't think anything is going on with your smile, this doesn't mean that you should be skipping out on your regular dental visits. Tooth decay and oral infections can easily develop, and you may not even notice them right away. It is typically recommended that you see your dentist every six months for regular cleanings and checkups. This way, your hygiene can clear away plaque and tartar, and your dentist can keep an eye out for issues so they can be treated early on.
Maintain Good Oral Hygiene Habits at Home

You should be brushing twice and flossing every day. These are both effective ways to remove food debris and plaque that can lead to tooth decay and gum disease over time. Choose a soft-bristled toothbrush and toothpaste that contains fluoride.
Be Careful with Your Diet

Your diet plays a key role when it comes to your oral health. If you are constantly indulging in sugary and starchy foods, you are increasing your risk of tooth decay. Try to only consume these items in moderation. Instead, fill your dinner plate with fruits, veggies, and healthy proteins.
Wear a Mouthguard

Playing sports is an excellent way to get the exercise that your body needs to remain healthy. However, you don't want to end up with a broken or knocked-out tooth in the process. Wearing a mouthguard will significantly reduce your chances of experiencing a dental injury. Nightguards are also available to limit the harmful effects of teeth grinding while you catch some Zs.
Use Tools, Not Teeth to Open Packaging

It may seem convenient to use your teeth to open stubborn packaging, but you would easily end up with a cracked or broken tooth. Instead, take the time to get some scissors or whatever other tool you need to complete your task effectively.
Dental Emergency FAQs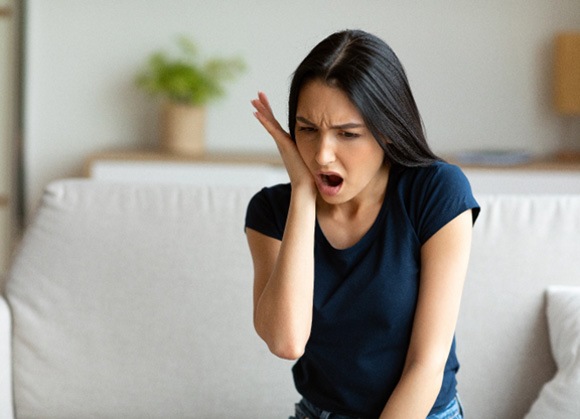 Whether you've suffered a minor chip to your tooth or one of your pearly whites is feeling loose, you'll want to visit your emergency dentist in Waverly as soon as possible. While it's best to seek dental care to preserve your smile, it's also normal to want to know more about your treatment before jumping on board. To help you feel more comfortable and well-informed about this kind of visit, our team has compiled and answered several of our most commonly asked questions about dental emergencies. Keep reading to learn more or reach out to us if you need to make an appointment right away!
Will My Toothache Go Away On Its Own?
Unlike other small injuries or bruises around the body, a toothache does not typically vanish on its own. There are various reasons this condition can occur, such as an object stuck between your teeth or a serious oral infection. For this reason, you'll want to visit your emergency dentist in Waverly sooner rather than later, especially if the aching is intense. They'll be able to evaluate your situation, address the root of the issue, and detect any underlying problems that can be treated before they worsen. In some instances, a toothache may go away by itself if it involves discomfort around the tooth (not inside), such as gum irritation. To ensure your smile is safe, it's best to visit your dentist for a checkup.
What Does Throbbing Tooth Pain Mean?
In many cases, throbbing tooth pain is an indication of inflammation or an infection. If you have a crack or cavity within your tooth, it can allow bacteria and air to enter the inner layer where the pulp is. If left untreated, this can lead to irritation and possible infection of the nerves, which is usually followed by severe discomfort. This sensation can also be a sign of decay or even be a result of chronic grinding and clenching of the teeth.
Do Chipped Teeth Heal?
Although tooth enamel is the hardest substance in the human body, it isn't indestructible. Furthermore, unlike your other organs in the body, it will not regenerate over time. Once any amount of your enamel is chipped off, no matter how small, it will not grow back. The most you can expect is for your teeth to remineralize, which strengthens the structure. If you want to "regrow" mildly damaged teeth, you'll need to undergo restorative or cosmetic dental treatments to improve and fortify them, such as dental crowns or veneers.
Can I Fix Dentures That Are Broken in Half?
Only a qualified professional will be able to repair dentures that have been broken in two. However, the majority of the time, it would likely be best to simply replace the prosthetics entirely. Regardless, make sure to speak with the dentist you received your dentures from. They'll be able to assess your oral health and begin developing your new tooth replacements. In the meantime, try using a spare denture if you have one. This should only be a temporary solution until you receive your new permanent ones.