All-on-4 Dental Implant Retained Dentures – Waverly, IA
Supporting a Full Row of Teeth Just 4 Dental Implants
For patients who have experienced the loss of one or both rows of teeth, time is of the essence to put the smile back on their faces as well as to restore form and function. For many people, traditional dental implant-supported dentures just take too much time and require invasive preparatory treatments that make the entire process not worth the effort for some. However, slipping, sliding, and ill-fitting traditional dentures aren't necessarily the best option either. If you're looking for a faster, less-invasive alternative to traditional implant dentures, we may be able to accommodate your dental care goals with an All-on-4 dental implant retained dentures in Waverly, IA. This innovative treatment delivers all the benefits of implant dentures in less time and often without the need for costly, invasive preparatory treatments. If you're ready to find out more, call Smiley Family Dentistry of Waverly to schedule your tooth replacement consultation today. Dr. Jonathan Smiley will review your restoration options and help you to create a customized restoration plan that delivers a healthy, beautiful smile you'll proudly share in any situation.
Why Choose Smiley Family Dentistry for All-on-4 Dental Implant Retained Dentures?
Fast Tooth Replacement
Experienced Dentist with Advanced Training
Compassionate Dental Team
How Do All-on-4 Dental Implants Work?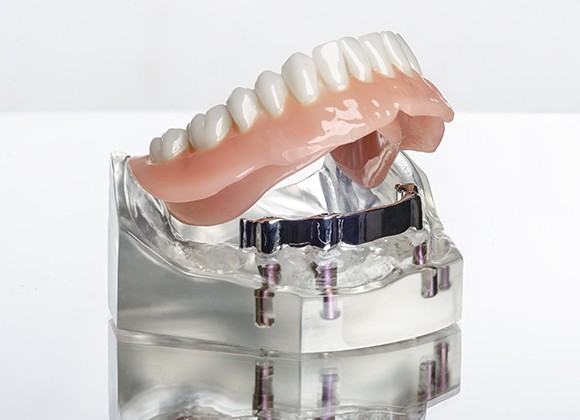 Traditional dentures are crafted using a gum-colored base material to support the row of replacement teeth. Because there are no healthy teeth remaining to offer support, removable dentures are formed to fit against the gums, and the close fit creates suction, holding the denture in place. Traditional implant-fixed dentures use four to six implant posts placed across the entire length of the jawbone to anchor the full denture in place, mimicking the natural root structures of lost teeth.
Each of these restoration options has its benefits, but for many of our patients, All-on-4 dentures offer a conservative compromise between traditional implant and removable dentures. All-on-4 treatment is innovative because of how the dental implant posts are placed. Rather than positioning each implant post directly into the jaw, which can require the need for preparatory tissue grafting, All-on-4 implant posts are positioned to take advantage of the densest parts of the jawbone. In most cases, this is the front of the jaw, so two implants are placed vertically, supporting the front of the denture. Then, two posts are positioned diagonally from the back to the front, supporting the entire denture with the naturally strongest part of the jawbone.
What are the Benefits of All-on-4 Dentures?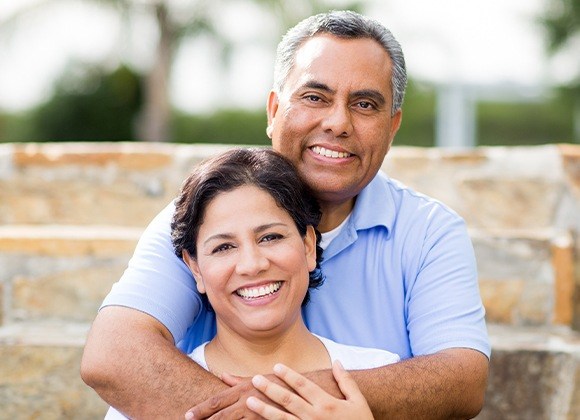 Still not sure that All-on-4 is the right tooth replacement solution for you? Let Dr. Smiley know. He'll be happy to review all of your treatment options to ensure you're making the best choice. Some of the benefits of All-on-4 dentures that make them ideal for so many of our Waverly dental patients include:
All-on-4 is budget-friendly with just four implant posts and treatment in fewer appointments, and your overall treatment pricing is usually significantly less than what you would pay for a traditional dental implant-supported prosthetic.
With fewer implant sites and almost no need for preparatory treatments, All-on-4 dentures are much less invasive and require less healing time.
Because the dental implant posts support the denture, you will prevent or reverse bone resorption that can occur following tooth loss, especially when a removable denture places pressure on the jawbone and gum tissue.
Most patients need to reline or replace a removable denture every five to ten years to ensure comfort and function, but All-on-4 dentures are functional for decades.
All-on-4 dentures allow patients to consume all of their favorite, nutrient-rich foods without worrying about sliding dentures.