All-On-4 – Waverly, IA
Efficient, Convenient, & Quality Tooth Replacement
For patients who have experienced the loss of one or both rows of teeth, time is of the essence to put the smile back on their faces as well as to restore form and function. For many people, traditional implant dentures just take too much time and require invasive preparatory treatments that make the entire process not worth the effort. However, slipping, sliding, and ill-fitting traditional dentures aren't necessarily the best option either. If you're looking for a faster, less-invasive alternative to traditional implant dentures, we may be able to accommodate your dental care goals with All-on-4 in Waverly. The best part is that Dr. Jonathan Smiley may be able to give you your entire new smile in just one day! To schedule an appointment, don't hesitate to contact Smiley Family Dentistry.
Why Choose Smiley Family Dentistry for All-on-4?
Fast Tooth Replacement
Experienced Dentist with Advanced Training
Compassionate Dental Team
How Do All-On-4 Implants Work?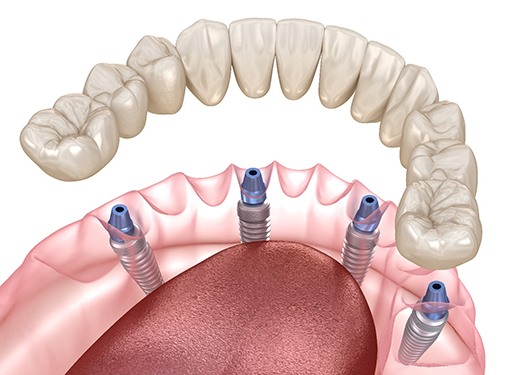 Dental implants offer many benefits because they are surgically placed in the jaw to mimic natural tooth roots. However, they require adequate jawbone strength, which can be an issue if you've been missing teeth for a while. When you lose teeth, the stimulation your bone was getting decreases, leading to deterioration. In order to get implants, you may need invasive treatments like bone grafting.
Thankfully, All-on-4 dentures offer a conservative compromise between traditional implant and removable dentures. All-on-4 treatment is innovative because of how the dental implant posts are placed. Rather than positioning each implant post directly into the jaw, which can require the need for preparatory tissue grafting, All-on-4 implant posts are positioned to take advantage of the densest parts of the jawbone. In most cases, this is the front of the jaw, so two implants are placed vertically, supporting the front of the denture. Then, two posts are positioned diagonally from the back to the front, supporting the entire denture with the naturally strongest part of the jawbone.
Am I A Candidate for All-On-4 Implants?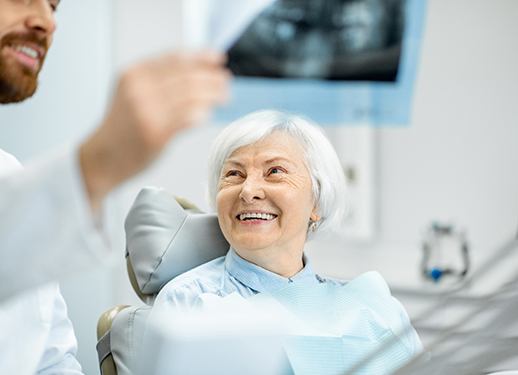 Most patients who have lost all teeth on one or both arches are good candidates for All-on-4. Even patients who have experienced bone loss can benefit from this treatment because of the special placement of implants that requires less jaw density. If you've already had bone grafting, you may not need this additional service for All-on-4. That said, it's still vital that you maintain good dental health by keeping up with regular brushing and flossing. Poor oral hygiene like cavities and gum disease as well as bad habits like smoking can lead to dental implant failure. Dr. Smiley will always review your medical history and thoroughly examine your mouth before recommending All-on-4.
What Are the Benefits of All-On-4 Implants?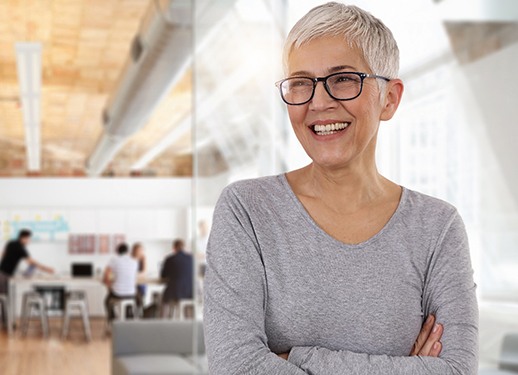 Some of the benefits of All-on-4 dentures that make them ideal for so many of our Waverly dental patients include:
All-on-4 is budget-friendly with just four implant posts. Plus, treatment comes in fewer appointments, and your overall cost is usually significantly less than what you would pay for a traditional dental implant-supported prosthetic.
With fewer implant sites and almost no need for preparatory treatments, All-on-4 dentures are much less invasive and require less healing time.
Because the dental implant posts support the denture, you will prevent or reverse bone resorption that can occur following tooth loss, especially when a removable denture places pressure on the jawbone and gum tissue.
Most patients need to reline or replace a removable denture every five to ten years to ensure comfort and function, but All-on-4 dentures are functional for decades.
All-on-4 dentures allow patients to consume all of their favorite, nutrient-rich foods without worrying about sliding dentures.
All-On-4 vs. Traditional Dental Implants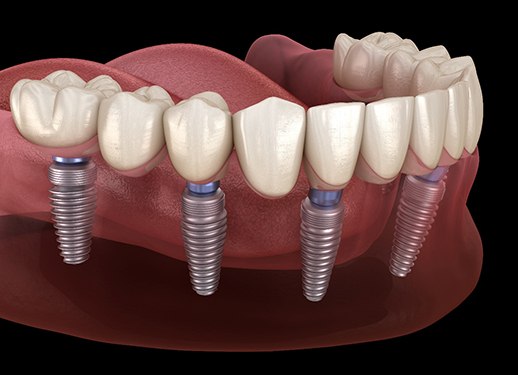 There are a few key differences between All-on-4 and traditional dental implants. Primarily, implant dentures can sometimes require up to 8 dental implants for their placement, which usually makes All-on-4 a more affordable option. In many cases, you won't have to complete preliminary treatments like bone grafting to get your new smile. This is not only more convenient than traditional options, but it also allows you to access the benefits of dental implants in Waverly as soon as possible. Last but certainly not least, your final denture can be placed on the same day of your implants with All-on-4 instead of having to wait months with a temporary restoration.