Dental Sealants – Waverly, IA
Protection for Vulnerable Molars
Millions of bacteria call your mouth home. Some are good, like those that help you chew and digest your food. Sadly though, others are harmful, such as the bacteria that cause tooth decay. But what if you could construct a barrier between your teeth and the bacteria that can lead to decay and a cavity? That's exactly what dental sealants do. Dental sealants in Waverly, IA, which are also called pit and fissure sealants or just fissure sealants, are applied as a liquid plastic to the enamel surface of your teeth and dry to a solid barrier. At Smiley Family Dentistry in Waverly, IA, Dr. Smiley most often recommends sealants for young children whose deeply pitted and grooved molars can be hard to keep clean and are, therefore, more likely to develop cavities. Nevertheless, moms and dads may also benefit from dental sealants, especially if they are susceptible to tooth decay.
Why Choose Smiley Family Dentistry for Dental Sealants?
Family-Friendly Dental Office
Caring Dental Team with Years of Experience
Cavity Protection Lasting Up to 10 Years
Placing Dental Sealants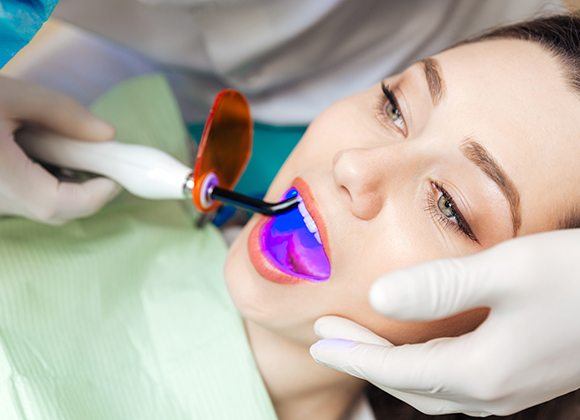 The process for receiving dental sealants is the same for children and adults. The first step requires a thorough cleaning of your teeth. (This is why dental sealants rarely need a special appointment and can be applied during one of your regularly scheduled dental cleanings and exams.) After being cleaned, your teeth will be rinsed with water and dried.
Then, a mildly acidic solution is applied to the chewing surface of each molar. We usually don't need to apply sealants to incisors because they are far less prone to decay. This solution acts like fine sandpaper on wood and slightly roughens the surface so there is a stronger bond between the sealant and your tooth. The solution is rinsed away after a few seconds and your teeth are dried again.
Finally, the liquid dental sealant is painted on your molars and dried with a special curing light. You'll need to wait a short while before eating, but then you will be able to enjoy a normal diet immediately. Dental sealants are designed to withstand the normal pressures of biting and chewing. So, your sealants will likely last for many years. And each time you come to see Dr. Smiley for a dental checkup, we'll examine your sealants and replace any that are worn or missing.