Cosmetic Dentistry – Waverly, IA
Give Your Confidence a Boost
While optimal oral health should always be a priority, our Waverly, IA dental team understands that patients are interested in achieving smiles that look just as good as they feel. After all, your smile is often the first thing people notice about you—we want you to feel secure and confident in the impression you're making with your smile. That's why at Smiley Family Dentistry, Dr. Jonathan Smiley is happy to offer many of the most popular options for cosmetic dentistry in Waverly, IA!
Why Choose Smiley Family Dentistry for Cosmetic Dental Treatments?
Versatile, Effective Porcelain Veneers Available
Convenient At-Home Whitening Offered
Lifelike Improvements with No Metal
Porcelain Veneers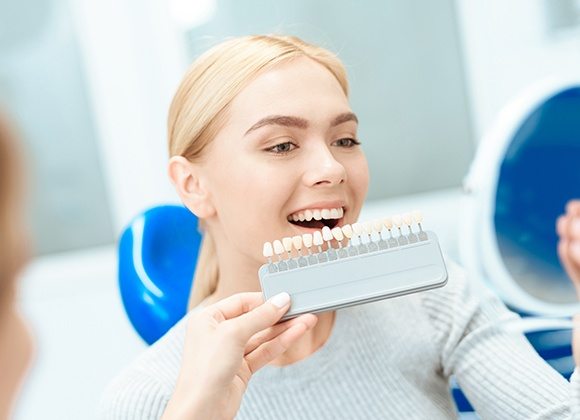 If you have multiple imperfections in your smile that you'd prefer to cover up, porcelain veneers can be truly life-changing and transformative. These ultra-thin sheaths of ceramic are customized to blend in with your neighboring teeth exactly. Everything from the shape, size, and color are personalized to look natural in your smile, and their ceramic qualities actually make them more stain-resistant than enamel! In just two appointments, we can effectively design and place the veneers on your teeth, hiding cracks, chips, gaps, permanent discoloration, and even slightly rotated teeth for at least 10 years when you practice regular oral care.
Metal-Free Dental Restorations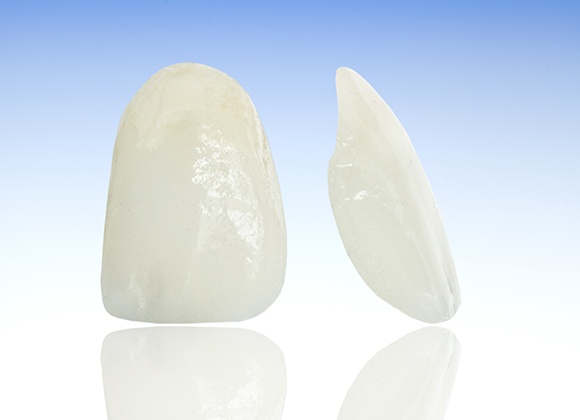 Whether you have damaged or missing teeth that you need to have restored, or you have a small or misshapen tooth that you want to enhance, you don't want to have restorations that stand out with shiny metal. At Smiley Family Dentistry, we offer restorations that contain no metal at all. As a result, they look much more natural and blend in seamlessly into the rest of your teeth. Everyone else will just see your confident, radiant smile.
Dental Bonding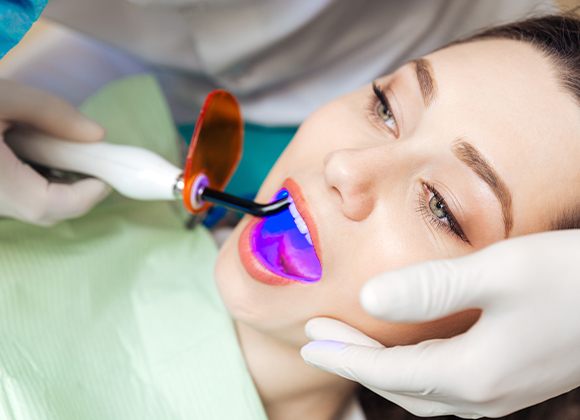 Not all cosmetic dentistry has to require multiple visits to complete, nor do you need to rely on restorations to hide minor imperfections. Similar to how tooth-colored fillings restore damaged teeth affected by cavities, dental bonding uses composite resin to cover the small imperfections in your teeth, typically in just one visit to our dental office! This material is blended and shaded to match your existing enamel, so it's easy to hide cracks, chips, stains, and even gaps without worry of modifying your tooth enamel, all without necessarily needing to come in for a second visit.
Digital Imaging/Virtual Smile Design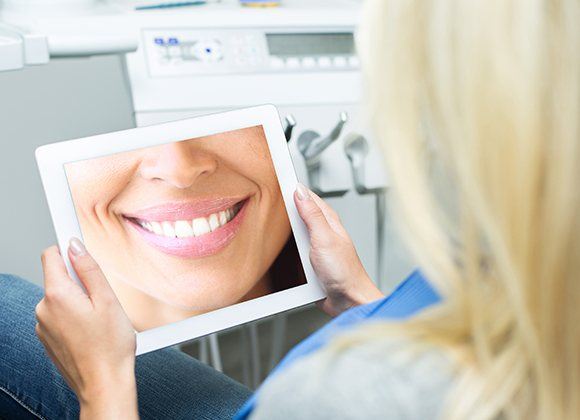 Is it difficult for you to visualize what your new and improved smile will look like after treatment? Would you like to get a sneak peek at how your transformation will change your appearance? Our team has advanced technology that enables us to help you out. Basically, we take a photo of you, and then we manipulate the photo to reflect the treatment you could receive. As a result, you can see how you will look after your procedures are complete and feel more confident moving forward with treatment.
Smile Makeovers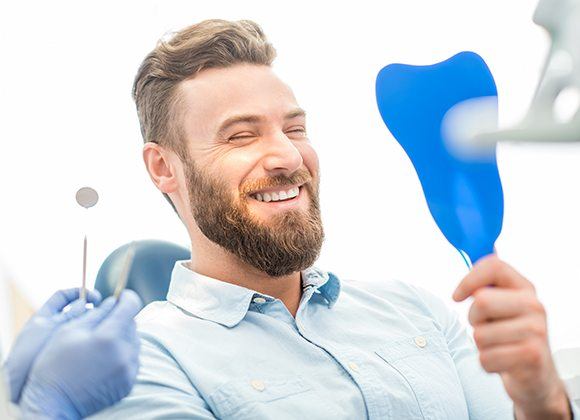 Perhaps when you look at your smile, you think that your teeth require too much work to create your dream smile. Maybe you have multiple imperfections, and you aren't sure which procedures can help you finally have the confidence to let your teeth show. Well, no smile is too far gone for Dr. Smiley. We can create a treatment plan that meets all your needs and delivers results that you won't hesitate to show to the world.
At-Home Teeth Whitening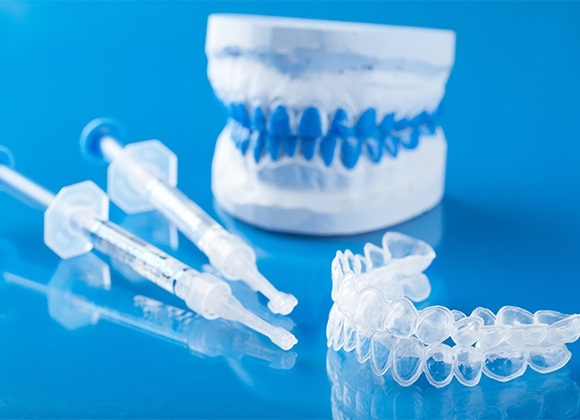 Would you like to whiten your smile at a more gradual pace, or in the comfort of your own home? We provide customized application trays and high-grade gel for professional whitening results at the pace you're comfortable with. All you have to do is wear both together for a specified time each day -- usually about half an hour. The treatment works around your schedule, and within a few applications, you see changes in your smile. After a couple of weeks, the treatment is complete… and you're ready to show off your new, brighter smile!
Teeth Whitening for More Confident Smiles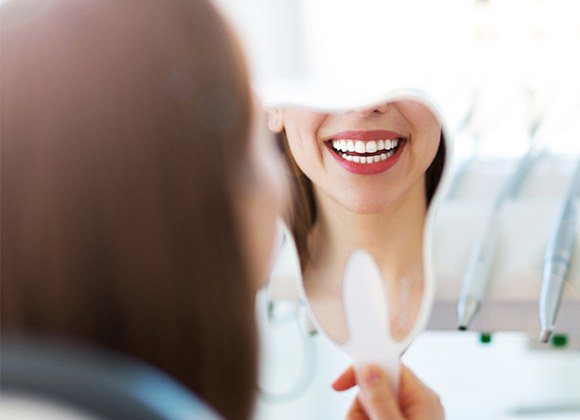 Years of living really take a toll on the appearance of your smile. We all know that a daily coffee habit or smoking can especially lead to dingy teeth -- but the truth is that most people will experience darkening tooth enamel with age, no matter what they eat or drink. Fortunately, professional teeth whitening treatments erase the signs of age by revealing your youthful, rejuvenated smile.
Teeth whitening at Smiley Family Dentistry can improve the appearance of natural teeth that have been affected by the following issues:
Staining related to coffee, red wine or other highly pigmented foods and beverages
Tobacco stains
Teeth that appear yellow as a result of poor dental hygiene
An overall dingy look from years of regular use
Patients whose dental staining is a result of excessive fluoride exposure or the use of certain medications (especially tetracycline) may not see results from teeth whitening. Additionally, solid dental and gum health should be reached before beginning any cosmetic treatment.
Why Choose Professional Teeth Whitening?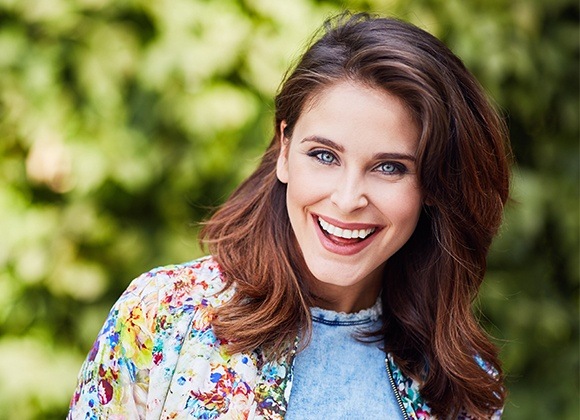 We know there's no shortage of over-the-counter whitening options available today, but Dr. Smiley likes to remind patients that you should always trust your teeth to the professionals who know what's best for your smile. We can check your teeth to make sure teeth whitening is good for your specific case -- so you don't spend time and money on a treatment that won't give you the results you want. Plus, the treatments you can pick up from the pharmacy simply aren't as strong as what you receive from a dentist's office. For the brightest, most effective whitening, trust the team at Smiley Family Dentistry to do what's in your best interest.