Porcelain Veneers – Waverly, IA
Completely Transform Your Smile
Maybe you have teeth that look less than stellar, whether that be from chips, cracks, stains, gaps, or other minor cosmetic flaws. Sounds like you could benefit from porcelain veneers in Waverly. Dr. Smiley can bond these ultra-thin sheaths of durable dental porcelain to the front-facing surfaces of your pearly whites to mask all kinds of imperfections. In just two quick appointments, we can completely transform your smile. Contact us today to schedule a consultation to see if porcelain veneers are right for you.
Why Choose Smiley Family Dentistry for Porcelain Veneers?
Look Completely Lifelike
Correct All Kinds of Imperfections
Can Last for Over a Decade
What Are Porcelain Veneers?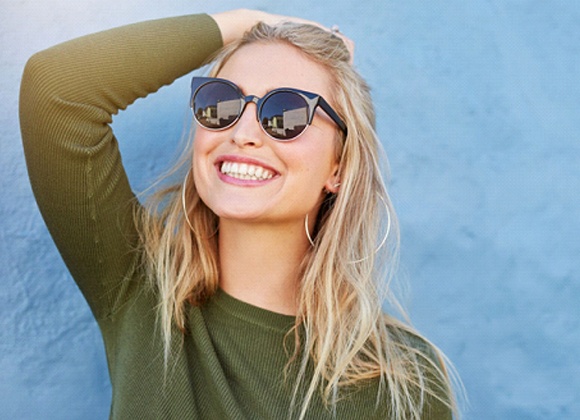 Veneers are wafer-thin porcelain shells that are attached to the front surfaces of your teeth to conceal just about any kind of cosmetic flaw you could have, like cracks, chips, and discoloration. In fact, porcelain veneers are often called "instant orthodontics" because they can quickly correct slightly crooked or rotated teeth, or close small gaps.
How Do Porcelain Veneers Work?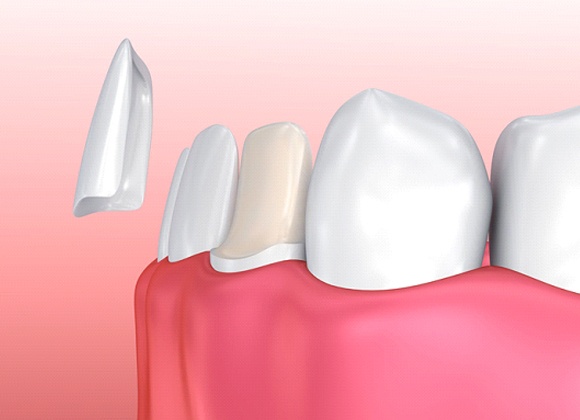 As mentioned earlier, the veneers process takes two appointments, after the initial consultation. At the first visit, Dr. Smiley will remove a tiny sliver of enamel from your teeth to ensure the veneers lay flush against them. Then, he will take impressions of your prepped teeth and send those off to the dental lab. In the meantime, we'll fix you with temporary veneers that allow you to take your new and improved smile for a test drive.
You'll return to our dental office in a few weeks when your permanent veneers are ready. We'll simply attach them to your pearly whites, and ta-da! Your smile is instantly transformed into perfection.
Benefits of Porcelain Veneers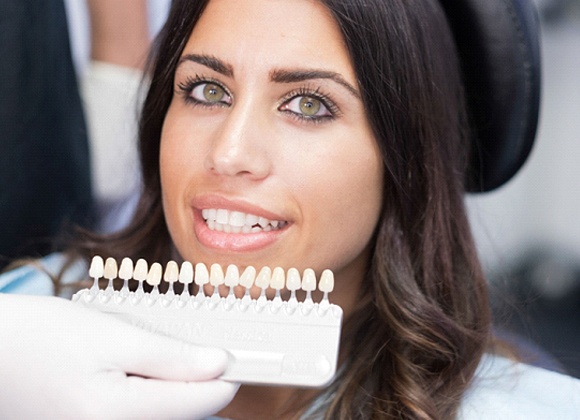 Veneers are a much more conservative treatment than other options like dental crowns, as they require much less enamel removal. Once enamel is gone, it's gone for good, so you want to keep as much as possible.
Additionally, veneers are significantly more resistant to discoloration than natural tooth enamel. As long as you brush your teeth after enjoying a dark beverage like coffee, tea, or wine, you won't have to worry about them staining your veneers.
Veneers are a great way to boost your self-confidence by perfecting your grin. They're also incredibly easy to maintain. Simply brush and floss every day as you would your normal teeth. You'll also need to come in every six months to see Dr. Smiley for a checkup and cleaning.
How to Know If Veneers Are Right for You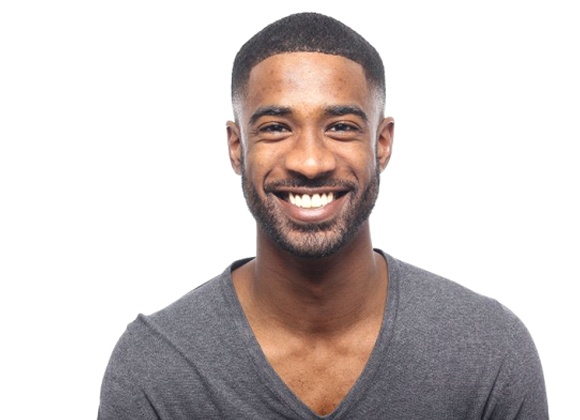 Before we can place veneers, we'll have to make sure your teeth and gums are in good condition. This means any underlying issues like cavities and gum disease will need to be treated first. Furthermore, you'll have to have plenty of tooth enamel left to give the veneers a good bonding surface. If there isn't enough enamel left, the veneers basically won't have anything to stick to, and you won't be able to receive them.
If your teeth and gums are disease-free, and you have enough enamel left, then porcelain veneers might be just what you need to get the smile of your dreams!