Children's Dentistry – Waverly, IA
Happy Dental Experiences for Growing Smiles
From first haircuts to first trips to the beach and other big milestones, your child's days are full of new experiences right now. Positive experiences can shape the way she'll feel about certain things for the rest of her life -- and that includes her first few visits to the dentist's office. Did you know one of the most common reasons adults fear the dentist is due to childhood trauma? Make sure your little one gets started off on the right foot with friendly, excellent dental care. Visit Dr. Jonathan Smiley, the dentist providing children's dentistry in Waverly, IA!
Why Choose Smiley Family Dentistry for Your Child's Dental Care?
Gentle, Kind Dental Team
Experienced Dentist Who Genuinely Cares
Dental Insurance Accepted
When to Begin Your Child's Dental Care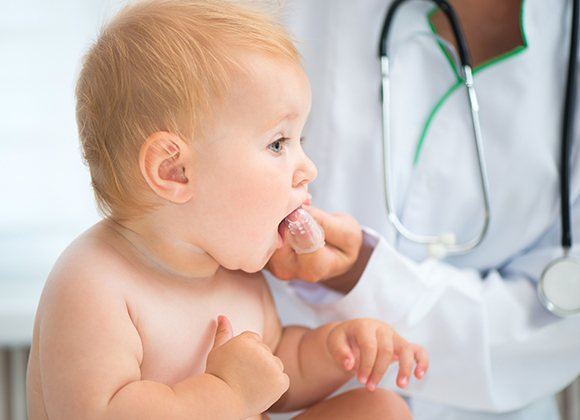 At Smiley Family Dentistry, we begin seeing children around age two. It's a simple get-to-know-you visit that is great for introducing your little one to the sights, sounds, and friendly faces of the dental office.
Think two years old is a little early for a visit to the dentist? Those first teeth seem perfect -- but they are as vulnerable to decay as your own. In fact, given the high sugar content in milk, juice, and other favorite foods and beverages, children's teeth require special attention for guarding against tooth decay.
Preventing Baby Bottle Tooth Decay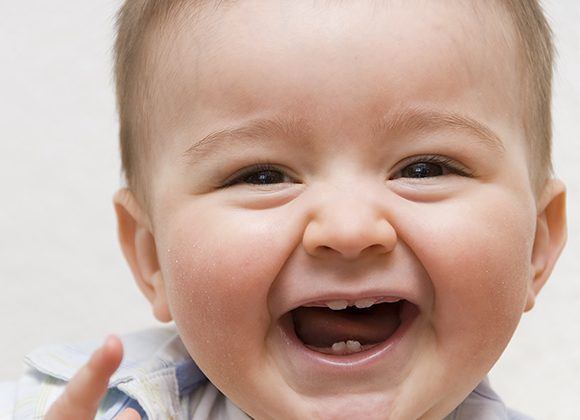 When you bring your little one into our dental office for her first visit, we'll check her teeth and gums for evidence of baby bottle tooth decay. It occurs when the sugars in milk, formula, juices, and sugary beverages are allowed to linger on the surface of the child's teeth. Prevention is important to aid in the proper development of her primary teeth.
To keep your child's teeth safe from baby bottle tooth decay, keep the following tips in mind:
Never put your child to sleep with a bottle.
Only fill bottles with milk, formula, or water.
Clean your baby's teeth and gums with a washcloth after feeding.
Begin brushing your baby's teeth as soon as they erupt.
Your child's first visits to the dentist are also your opportunity to ask any questions you may have related to your child's dental health. Questions may include tips for preventing baby bottle tooth decay, cleaning your child's teeth, potential orthodontic issues, and more.
Children's Checkups & Teeth Cleanings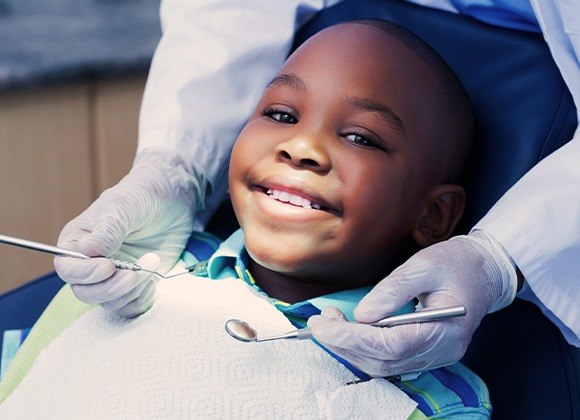 Once your child has turned two, you can start bringing them in for regular checkups and cleanings. Our team excels at making these appointments fun and stress-free for young patients, and these visits are critical for keeping cavities and other oral problems away from your child's precious smile. Dr. Smiley will gently inspect their teeth and make sure their teeth are developing in a healthy way. Then, our friendly hygienists will remove plaque buildup that has been missed in their at-home oral care. If you have any questions about taking care of their smile, this visit is the perfect opportunity to ask us.
Cavity Prevention for Older Children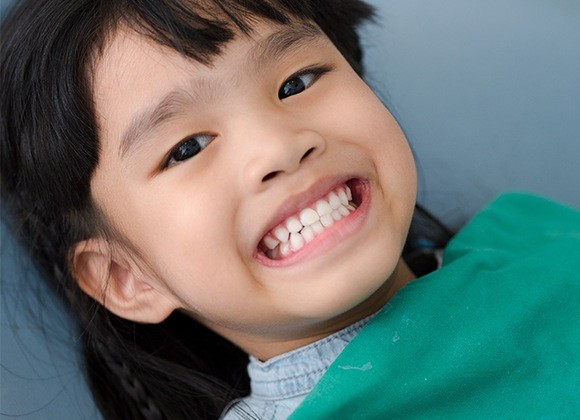 Children's teeth are most vulnerable to tooth decay between ages 6 and 14. To help combat cavities, your pediatric dentist is equipped with two special preventive measures: dental sealants and fluoride treatments.
Dental Sealants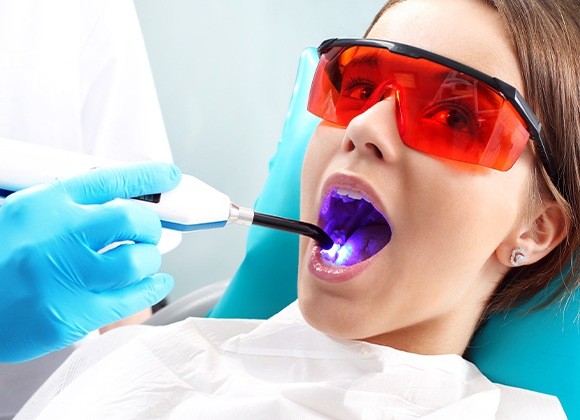 Many patients, especially children, struggle with effectively brushing teeth in hard-to-reach areas like the chewing surfaces of back teeth. Our team is happy to provide dental sealants in these cases. Made from a tough, plastic material, sealants are painted over the tricky pits and grooves of molars, so the area is effectively sealed shut serving as a powerful barrier against potentially destructive bacteria.
Learn More About Dental Sealants
Fluoride Treatments for Children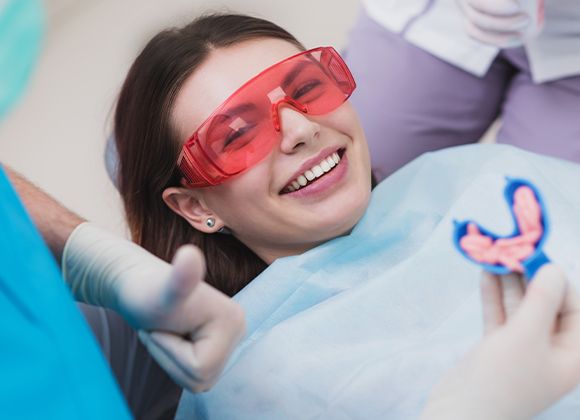 Although a cavity can affect patients of any age, children are particularly susceptible to cavities. Why? The enamel of primary teeth, commonly called baby teeth, is thinner than that of permanent teeth. Also, children are still in the process of learning the importance and technique of proper oral care. After their teeth have been professionally cleaned, we can offer a concentrated treatment of fluoride, a mineral that strengthens tooth enamel and helps it withstand attacks from harmful bacteria. The treatment is painless and takes only a few minutes, but it can help protect your child's smile until their next checkup.
Athletic Mouthguards/ Sportsguards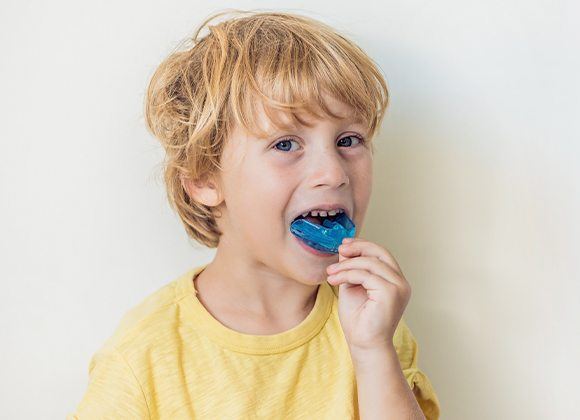 Are you or your child a dedicated athlete? Dr. Smiley recommends active patients wear a custom mouthguard when participating in a sport where contact with another person or hard surface is a possibility. Also known as a sportsguard, one-size-fits-all versions of these appliances are found in athletic stores, but we'd prefer to provide you a personalized one at our Waverly, IA dental office for maximum comfort and security. You can perform more confidently once you know your smile is protected!
Pulp Therapy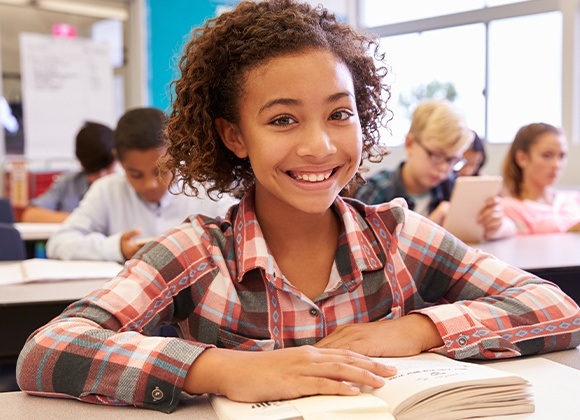 If decay reaches the center or pulp of the tooth, your child can experience severe pain, and if the cavity has occurred in a baby tooth, this pain can happen quickly. To save the tooth from needing to be extracted entirely, we can perform pulp therapy, in which we remove the infected tissue and the pulp. Then, we seal off the inner chamber of the tooth and restore the tooth with tooth-colored filling material or a dental crown. Either way, this therapy can help your child retain their natural tooth for as long as possible.