Dental Implants – Waverly, IA
Replace Missing Teeth for Decades to Come
Whether you've recently lost one or more teeth through a dental emergency or you've been struggling with gaps for years, it's never too late to regain a beautiful, healthy smile with Dr. Jonathan Smiley. We offer several transformative reconstructive solutions to tooth loss, and dental implants in Waverly, IA are our strongest recommendation due to their long-lasting quality, virtually seamless appearance, and revitalizing oral health benefits. We're happy to offer this advanced service at Smiley Family Dentistry, and patients from Waverly, IA and all of the surrounding communities are welcome. Give us a call today to get started!
Why Choose Smiley Family Dentistry for Dental Implants?
Implants Placed & Restored In-House
CT/Cone Beam Scanner for Precise Implant Placement
Fair Fees with No Surprises
What Are Dental Implants?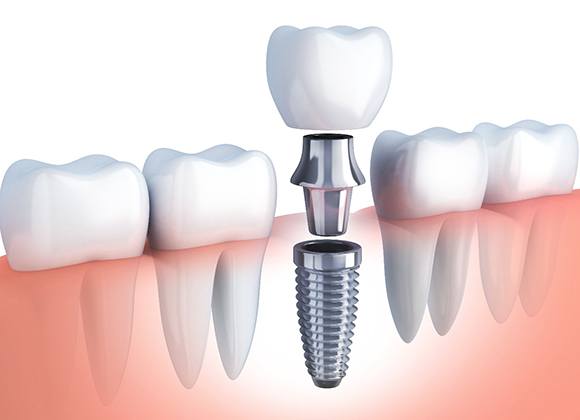 A dental implant is an artificial tooth that replaces the entire natural tooth structure from top to bottom. While traditional bridges and dentures simply rest on the gums and rely on the remaining teeth for stability, the dental implant post acts as a substitute tooth root, providing a firm foundation for the prosthetic. This combination is the most comprehensive way to replace lost teeth, and dental implants bring back the missing teeth's full function and appearance. For that reason, Dr. Smiley typically recommends dental implants for all eligible patients.
Benefits of Dental Implants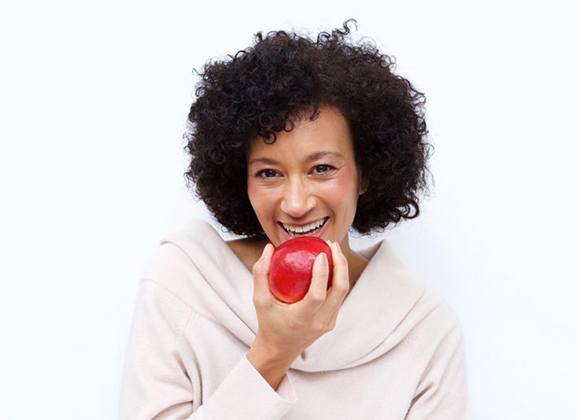 Just replacing your missing teeth is very beneficial to your oral and general health, as well as your outlook on life. However, there are some advantages that only dental implants offer. For example:
Unlike more traditional replacement options (bridges and dentures), implants stand in for both the crown and root of a missing tooth. The latter stimulates the jawbone and keeps it healthy for years. With a new root in place, patients minimize risk of both further tooth loss and a sunken facial appearance that often happens with tooth loss and other types of replacements.
Restored implants are practically indistinguishable from the color and shape of natural teeth, allowing patients to enjoy the complete smile they've been missing.
Restored implants can be treated just like regular teeth with no changes in diet or oral hygiene.
Implants have a success rate of more than 98 percent. As long as they're cared for properly with regular check-ups and oral hygiene at home, they could last the rest of a patient's life!
Who Dental Implants Can Help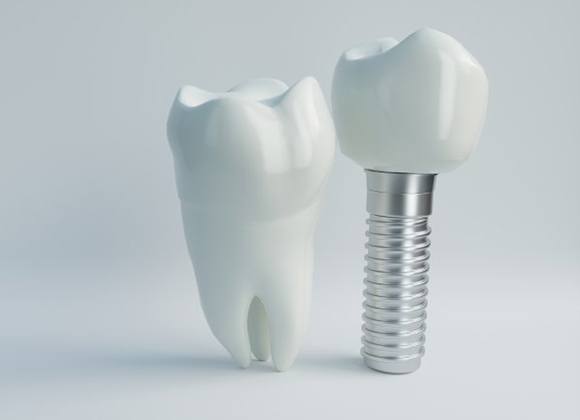 Because they replace the roots of teeth and not just the crowns, dental implants are by far the most versatile tooth loss solution. Whether you only have a single gap in your grin or you've lost a whole arch of teeth, our team at Smiley Family Dentistry is prepared to come up with a specific treatment plan to complete your smile and meet your unique needs.
Who Is a Good Candidate for Dental Implants?

Dental implant technology has come a long way in recent decades. In fact, most adults with missing teeth qualify for dental implants in Waverly — as long as they are in good oral and overall health and have a strong enough jawbone for the procedure. Oral health issues like gum disease or tooth decay could jeopardize the success of your implants, so we'll need to treat those beforehand. Some overall health problems, like autoimmune disease or poorly controlled diabetes, may interfere with the healing process unless you learn how to minimize your risks. Lastly, a jawbone that has deteriorated after tooth loss cannot adequately support dental implants. In this case, you'll likely have to undergo a bone graft to strengthen the area.
Once your mouth is fully ready to support your new smile, your dental implant dentist in Waverly can help you move forward with the treatment process. No matter how many teeth you've lost, we have a dental implant solution that can meet your unique needs.
Missing One Tooth

If you are missing one tooth, Dr. Smiley will place a single implant post in the jawbone to support a custom dental crown. This crown is made from materials that are so durable and lifelike, it will be nearly impossible for others to tell which of your teeth is the implant!
Missing Multiple Teeth

For several consecutive missing teeth, Dr. Smiley creates a dental bridge. Instead of attaching it to healthy, natural teeth, we use two implants to support both ends of your new prosthetic. This option is a great choice for patients who do not wish to alter their existing tooth structure to support a traditional dental bridge.
To replace multiple missing teeth that aren't in a row, we can hold a partial denture securely in place with just a couple of implants placed at strategic points throughout the jaw.
Missing All Teeth

If you have lost most or all of your teeth, then an implant denture can bring back your entire smile at once. By placing a small number of dental implants in certain positions along the jaw, a foundation is created for a lifelike denture that Dr. Smiley designs, based on your mouth and preferences. This appliance snaps onto the implants and stays in place so that patients can smile confidently once more. We even offer All-on-4 implants, which allow us to anchor a full denture onto just four implants.
Understanding the Cost of Dental Implants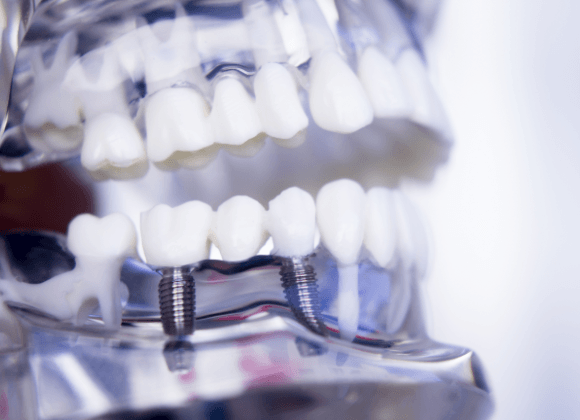 If you've been told that the cost of dental implants in Waverly is more than other replacements, well, that is true. However, you must consider the longevity of implants vs. that of, say, a denture. Dental implants are designed to last for decades. Commit to excellent oral hygiene with daily brushing and flossing as well as regular dental checkups, and your implants will last a lifetime. Dentures, on the other hand, will likely need relining at some point and will eventually need to be replaced as your gum ridge changes over the years. So, your investment in dental implants may actually end up costing less when you amortize the expense over the years.
Preliminary Treatments & Dental Implant Surgery

You may need one or more teeth extracted and others need bone or tissue grafting procedures to ensure adequate support for the implant post. During your initial consultation with your implant dentist in Waverly at Smiley Family Dentistry, we will examine your oral cavity using advanced technology to determine if you need preliminary treatments. If so, you can expect these to add to the overall cost of your treatment.
Your dental implant surgery will also incur a fee; however, because the entire procedure is performed in-house, under one roof, this eliminates the need for a referral and separate fee for an outside specialist. This can make the complete dental implant process much easier to financially manage.
The Parts of Your Dental Implant

The majority of what you can expect to pay for your dental implant placement will be the cost of the implant posts themselves. They are made from high quality materials and custom-crafted to exact specifications to ensure successful implantation. During your consultation, our team will go over the following details regarding your dental implants:
How many implants you will need – The more titanium posts required, the higher the price. It is cheaper to replace a single tooth than an entire arch simply because it is using only one implant post versus 4-8.
The materials used – Titanium and zirconia are the two most popular dental implant materials.
The type of restoration – Naturally, an implant crown will be much less expensive and take less time to create than a full implant denture; however, when compared to traditional dentures, one that is anchored by titanium posts is more cost-effective.
The brand – While there are many different brands of dental implants, the team at Smiley Family Dentistry is responsible for choosing our desired manufacturer and brand. Although they may be costlier than other dental offices, cheaper isn't always better when it comes to dental implants. We will discuss all of this information during the initial consultation, so you can understand the importance of using higher quality materials.
How Dental Implants Can Save You Money

Dental implants in Waverly are known for their durability, longevity, and ability to stimulate the jawbone and promote better oral health. These factors alone should be enough to entice anyone who is suffering from tooth loss and is considering their options. However, if the ultimate factor comes down to cost, you'll be pleased to learn that choosing dental implants will actually help you save money in the future. Here's how:
You won't be required to buy dental adhesives to help keep your teeth in place while eating and speaking.
You won't need special cleaning supplies (i.e., denture cleaner) to soak or clean your new teeth.
You won't need adjustments or replacements every 5-10 years like you would with traditional dentures or dental bridges.
You will be less likely to spend money on treatment for systemic issues caused by tooth loss (i.e., diabetes, osteoporosis, or even heart disease).
Does My Dental Insurance Cover Dental Implants?

Unfortunately, dental insurance does not typically cover the cost of the dental implant posts or their surgical placement. However, most insurers will provide coverage for the preparatory treatments and replacement teeth. Some plans even offer some coverage for dental sedation. Our team works with dental insurance providers on a regular basis, and we know how to maximize your dental care benefits to keep the out-of-pocket costs of your treatment to a minimum. We bill for each step of the treatment plan individually, which does somewhat help to offset the costs of dental care.
Making Dental Implants Affordable
Additionally, we are happy to work with third-party medical and dental financiers who provide low and no interest payment plans. With CareCredit's flexible financing plan, you can pay $299 per month for your dental implants in Waverly. This is a welcomed relief if you were concerned with the idea of trying to afford your new and fully functional smile.
The 4-Step Dental Implant Process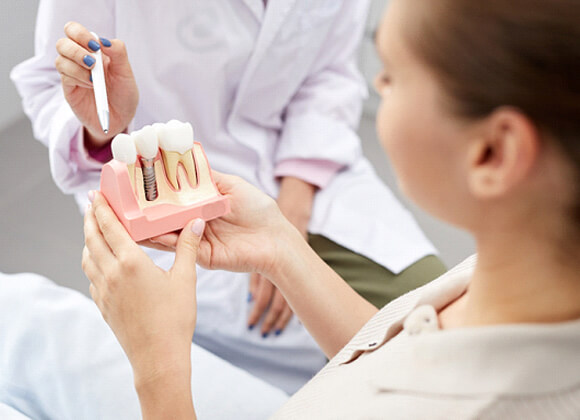 If you've been looking for ways to replace your missing teeth, you might be curious as to how dental implants work in Waverly. The process of getting dental implants is more complex than that of receiving a traditional denture or bridge. Dental implants require oral surgery and several months of healing before you can enjoy your new smile to the fullest. That said, our patients overwhelmingly find this solution to be worth the wait!
No two patients end up having the exact same dental implant treatment process, as every smile is different. However, most patients can expect to go through the same four basic steps.
Initial Dental Implant Consultation

Before planning any aspect of your treatment, we'll need to ascertain whether you're a good candidate for dental implants. As a skilled and experienced implant dentist in Waverly, Dr. Smiley can thoroughly examine your mouth with his trained eyes, take digital X-rays, and capture digital 3D images to get a full picture of your teeth, gums, and underlying jawbone structure. Ideally, your mouth should be infection-free, and you should have sufficient jawbone density to support dental implants. If that's not the case, Dr. Smiley will recommend the appropriate treatments, such as gum disease therapy or bone grafting, before moving forward with the dental implant process.
Dental Implant Surgery

Next comes the surgical placement of the implant posts in your jaw. Thanks to Dr. Smiley's advanced training, he can perform this procedure right here in our office – no need to refer you to a separate oral surgeon. That way, your treatment is fully streamlined.
Dr. Smiley will numb your mouth and make tiny incisions at carefully chosen locations in your gums. Through these incisions, he can position the implants at strategic angles. Then, he closes your gum tissue, and you can begin healing.
Dental Implant Osseointegration & Abutment

Osseointegration is the process of the dental implant posts encouraging your jawbone tissue to grow around them. It begins as soon as the implants have been placed, and once it's complete, the implants will be able to function just like the roots of natural teeth. This process usually takes between three and six months.
Following osseointegration, you may need to undergo another surgical procedure to have abutments attached to the tops of your implants. Abutments are small metal connectors, onto which we will secure your final restoration. Your abutments will most likely be visible for a couple of weeks after placement, as your gums need time to heal.
Delivery of Dental Implant Restoration(s)

At long last, it's time to have your brand-new pearly whites placed! By this point, we will have taken impressions of your mouth, where a dental lab uses them to design the crown, bridge, or denture that we'll anchor onto your abutments. While some types of implant dentures can be removable, your restoration will be fixed in place more often than not. Coupled with their secure foundation in your jawbone, this means that dental implants in Waverly should be indistinguishable from your natural teeth!
Dental Implant FAQs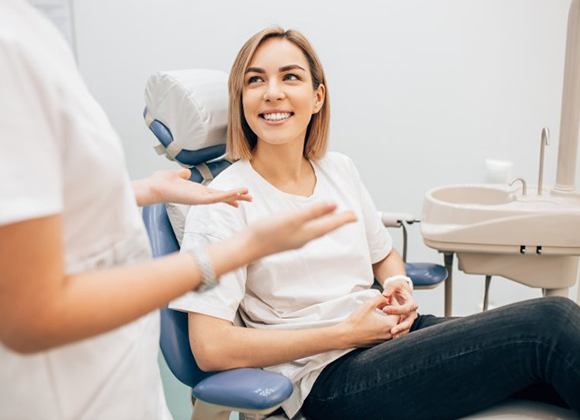 Dental implants in Waverly offer the ultimate solution in terms of tooth replacement: sturdy, natural-looking, and long-lasting. Have you been curious about some of the finer details of the treatment process? Don't worry; we've got the answers to some frequently asked questions about dental implants below.
How Do Dental Implants Work?
Dental implants work thanks to a remarkable process known as "osseointegration," which means bone fusion. Each implant post promotes the growth of bone tissue, which allows the implants to grow together with the jawbone. The result is a sturdy tooth replacement that lasts and lasts.
How Long Does It Take to Get Dental Implants?
The total length of a dental implant procedure depends on a few factors, primarily how healthy and dense your jawbone is. This affects whether or not you need to have a preliminary bone graft performed before implants are placed. In general, it takes between three and six months for the implant posts to completely fuse with your jawbone and become ready to support your new prosthetic teeth.
What Are Dental Implants Made Of?
The majority of dental implants are made from sturdy titanium. Less frequently, zirconia or ceramic implants may be used for patients who are allergic/sensitive to metal. These materials are all 100% biocompatible, which means they are perfectly healthy and capable of integrating with your existing jawbone in a way that feels natural.
How Long Do Dental Implants Last?
Dental implants can be expected to last for decades (or even a lifetime) with proper care. Occasionally, a form of gum disease called peri-implantitis can cause dental implants to fail. You can prevent it with excellent oral hygiene and by staying away from tobacco.
I'm Interested in Dental Implants. How Can I Get Started?
To learn more about dental implants, we invite you to get in touch with our dental office. Your dentist in Waverly can even complete the entire dental implant process under one roof—go ahead and request an appointment with us today!