Dentures – Waverly, IA
Realistic Dental Prosthetics to Restore Your Smile
When you've lost a significant number of teeth, everyday actions like speaking and eating become difficult. Patients of all ages deserve to enjoy a complete, strong smile they can feel confident about, and in Waverly, IA, Dr. Jonathan Smiley and our dedicated team want to help you regain yours. For every unique mouth, we design quality, custom-made full and partial dentures that provide comfort, stability, and aesthetic value. Contact Smiley Family Dentistry to set up an appointment!
Why Choose Smiley Family Dentistry for Full & Partial Dentures?
Customized Treatment Plan for Each Patient
High-Quality Materials in Restorations
Implant-Retained Dentures Available
Who's a Good Candidate for Dentures?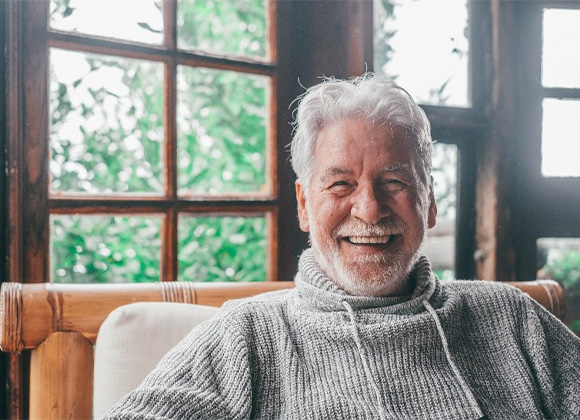 Are you missing several teeth in a row or scattered across your mouth? Maybe you don't have any of your natural teeth left. In both cases, dentures may be the lifelike, durable, and cost-effective tooth-replacement solution you've been looking for! At your initial consultation with Dr. Jonathan Smiley, our team will determine if you're a good candidate after conducting an oral exam, taking X-rays, and learning more about your dental history and smile goals. With all of this information in mind, we can determine if partial, full, or implant dentures are ideal for you.
Effects of Missing Teeth

Being able to perform everyday tasks like everyone else isn't so easy when living without a full set of teeth. Eating certain foods, speaking without slurring, and smiling freely are things most people take for granted, but someone with missing teeth may find that these become precious desires that are no longer possible.
When teeth are no longer in their appropriate place, the jawbone experience resorption. This means that over time, with no tooth root to provide stimulation, it begins to shrink. As a result, the face can begin to sag, and additional teeth can become loose because of a loss of blood flow to the jawbone.
What Qualifies You for Dentures?

If dentures are what you are thinking about pursuing to replace your missing teeth, you'll first need to meet with a qualified denture dentist. This meeting will require a full examination of your smile as well as your jawbone and a discussion about your overall health.
Gum disease and any existing decay must be treated before dentures can be placed, and if certain teeth are considered at risk for falling out, our team will likely recommend extraction.
The good news is that most individuals will find that dentures are a viable option. Whether they are possible right away or after preliminary treatments are provided, we can make sure that you get the kind of smile you've been dreaming about.
Alternative Tooth-Replacement Options

In the case that dentures are not the path you choose to take, there are other options that you may find to be better suited to meet your needs. These include:
Dental Bridges – Crafted from two dental crowns and artificial replacement teeth also known as pontics, a dental bridge will fill in the gaps of missing consecutive teeth. The prosthetic is secured to healthy abutment teeth that serve as anchors so that you can enjoy life with a complete smile.
Dental Implants – Relying on titanium implant posts that look similar to tooth roots, these prosthetics are placed into the jaw to create a solid support system for your new denture. Instead of relying on natural suction, the prosthetic is attached to the implant posts, offering a permanent solution to tooth loss.
Types of Dentures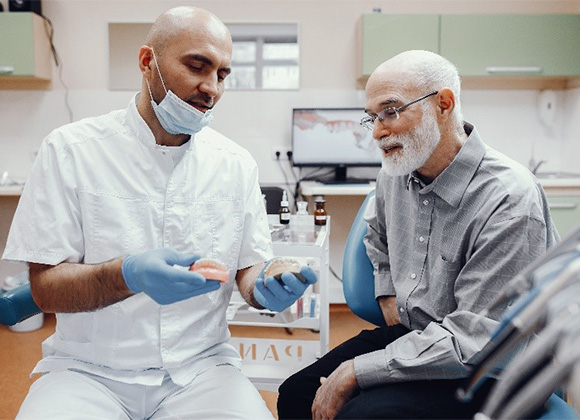 As you know, no two smiles are the same. No two dentures are the same either! Depending on your specific dental needs, we can rebuild your smile and bite with partial, full, or implant dentures. You can learn more about each type right here:
Partial Dentures

Do you still have a few of your natural teeth left? Partial dentures are designed like a puzzle piece to replicate an array of missing teeth along an arch. They're held in place with strategically positioned clips or brackets.
Full Dentures

Full dentures are designed to replace the entire top or bottom arch of teeth. We effectively replenish either or both rows at once for patients. This style of denture stays in place with natural suction or dental adhesive for a more secure fit.
Implant Dentures

Implant-retained dentures are available for patients searching for a more stable reconstructive solution. Instead of being held in place with natural suction or discreet brackets, they are anchored directly to your jawbone, providing added stability and strength.
The Benefits of Dentures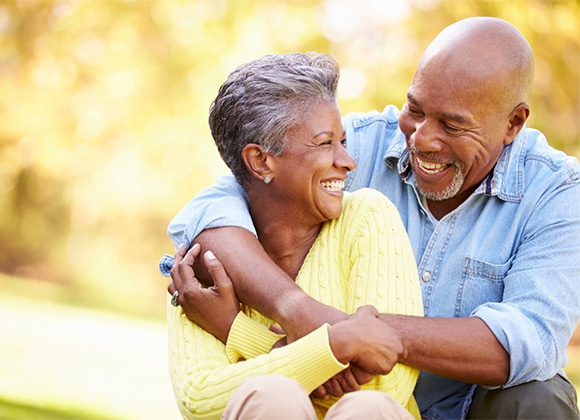 Dentures continue to be one of the most popular tooth-replacement solutions due to the various benefits they come with. First, they are extremely versatile and are completely customized to each patient's unique needs and preferences. Second, they are one of the most cost-effective tooth-replacement options – even implant dentures have the potential to be the best choice for your wallet in the long run. Modern dentures are also extremely lifelike in look and feel, improving the strength and function of your smile as well as your confidence!
Would you like to learn more about dentures and see if they are the right solution for you? Then schedule a consultation with Dr. Jonathan Smiley! Once that appointment is on the calendar, you'll be a big step closer to the strong, complete, and beautiful smile you've been desiring.