3D Digital X-Rays - Waverly, IA
CBCT Technology for Accurate Planning
Dentistry is going digital, and not every dental office is keeping up with the changes -- but Dr. Jonathan Smiley is the exception to the rule here in Waverly! Smiley Family Dentistry is pleased to be the first in our area to offer 3D dental x-rays with the CBCT (cone beam CT) scanner. It produces images that are similar to those captured a traditional CT scan, but it's designed especially for the dental office. Keep reading to learn more about how Dr. Smiley uses this tool to improve the level of care we provide!
About 3D Dental X-Rays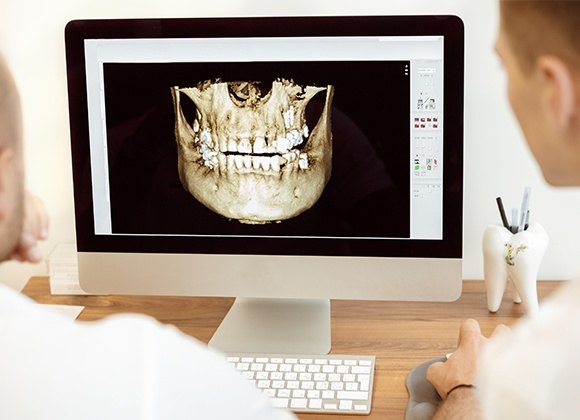 X-rays are a crucial diagnostic tool for any dental office. They allow your dentist to get a look at just what is going on beneath the visible surface of your teeth. Sometimes, though, a traditional, flat x-ray just does not provide enough information.
A 3D X-ray provides a much more in-depth look at your smile and the bones, blood vessels, and nerves that support it. With a comprehensive image of your teeth and all the surrounding oral structures, we can detect issues like extra teeth, wisdom teeth, mystery pain, and others early to provide the most conservative and effective treatment possible.
3D X-rays are also key in the treatment planning stages for services like dental implants, which require a highly detailed approach for maximum success. 3D X-rays give Dr. Smiley the entire view of the jaw—including all the blood vessels, bones, and nerves—that is necessary for ensuring safe, effective placement of dental implants in Waverly.
How the CBCT Scanner Works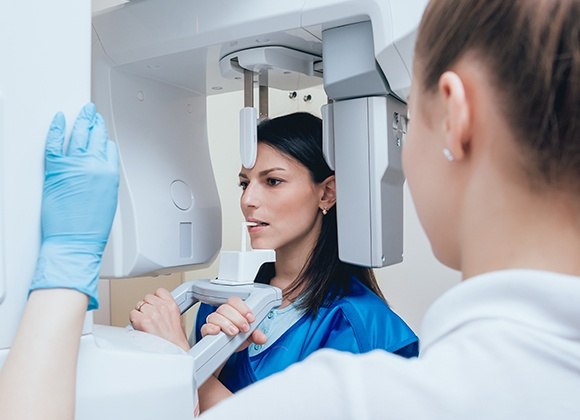 The cone beam scanner recreates a 3D image of your jaw by projecting x-ray beams in the shape of a cone around your head. The CBCT scanner exposes patients to less radiation than a traditional CT scan, captures the image more quickly, and also provides a more in-depth look at the projection site.
You do not have to do anything special to get a 3D X-ray, but it's a good idea to wear loose clothing on the day of your appointment. We will advise you to take off any bulky jewelry before we take the scan. Then, you will sit comfortably while the machine rotates around your head projecting cone-shaped x-ray beams. The scan takes less than a minute to complete.
Benefits of Digital Dentistry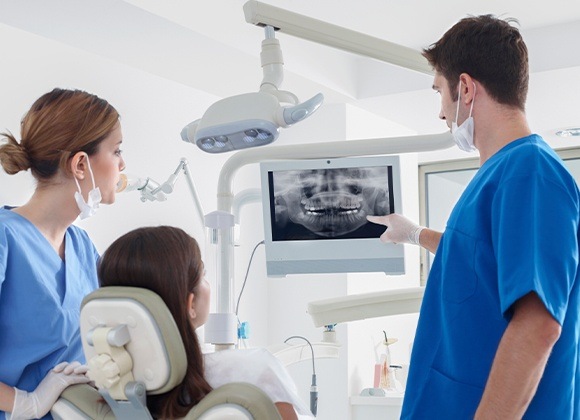 The advantages of going digital with the CBCT scanner at Smiley Family Dentistry include the following:
More accurate treatment planning for better results overall
Reduced radiation exposure
Images captured efficiently
No need for an outside referral with CBCT scanner in our dental office
You Can Benefit From Digital Dentistry!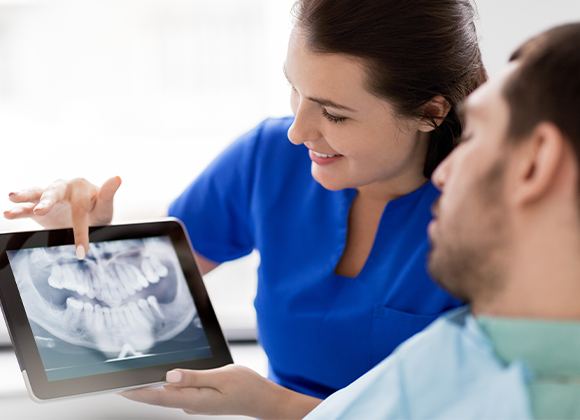 When you choose a dental office that keeps up with the latest advances in dentistry, you are doing your part to make sure you and your loved ones receive the best care possible! We invite you to request an appointment for high-tech, high-quality care at Smiley Family Dentistry today!