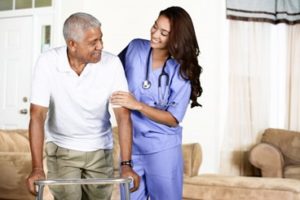 As people age, it is common for their health to decline. But in addition to aging, poor oral hygiene can also cause problems for overall well-being. This makes finding a dentist for seniors in Waverly important to their health. If you have loved ones who reside in assisted living communities, keep reading to find out key factors to consider when planning their dental care.
Dealing with Tooth Loss
Tooth loss is one of the most common challenges seniors deal with. If it causes them to stop chewing on a certain side of their mouths, this lack of stimulation can eventually result in the deterioration of the jawbone. Luckily, there are ways to replace these missing teeth. Dental implants, one replacement option, are inserted directly into the jawbone and help preserve and restore the natural arch of the mouth. However, if the bone is not strong enough to handle implants, dentures are another option. They are typically covered by health insurance plans like Medicaid, so they're usually the more popular choice. But keep in mind that over time, dentures may need to be adjusted to fit the changes of the mouth.
Proper Dental Hygiene
The staff in assisted living facilities are specifically trained to aid residents in their daily routines. Depending on a resident's needs, these caretakers are there to supervise or assist with bathing, dressing, dental hygiene and more. If your loved one requires special care for their oral health, communicating this to the attendants will help ensure that they receive the assistance they need.
Regular Visits to the Dentist
Visiting the dentist at least twice each year is crucial to a senior's dental health. Cleanings remove leftover food particles, bacteria and tartar (hardened plaque) from their teeth. The dentist will also perform an exam to check for early signs of gum disease and other health conditions like diabetes, oral cancer and dementia. Another advantage these visits provide is the chance to discuss any additional care your loved one may need when they return to their residence.
No matter the age, everyone deserves to have a healthy smile. Finding the right dentist to manage senior oral health in Waverly can help your loved one have a comfortable life for many years to come.
About the Author
Dr. Jonathan Smiley provides all patients with an experience rooted in trust and comfort. He received his Doctor of Dental Medicine from Southern Illinois University School of Dental Medicine and continued his education at the Dawson Academy. Dr. Smiley is also a member of the American Dental Association, the Iowa Dental Association and the Academy of General Dentistry. If your loved one is missing teeth or needs proper dental care, visit the website or contact the office at (319) 352-2270 to schedule an appointment today.