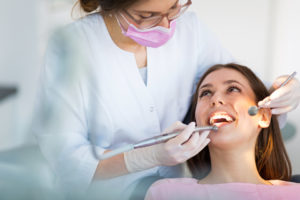 Are you eager to get back to the dentist but unsure if it is safe to go? As states begin opening back up following the worst of the COVID-19 pandemic, dentists are taking extra precautions to ensure each and every patient visit is as safe as possible. These extra measures include implementing new dental safety protocols and wearing personal protection equipment (PPE) during every procedure. Interested to know more? Keep reading to learn how your dentist in Waverly is prepared to welcome you safely back to their office.
Wearing Personal Protection Equipment During Dental Care
The federal Centers for Disease Control and Prevention (CDC) recently released new infection prevention and control guidance for dentists and dental professionals during the COVID-19 pandemic. These guidelines, which are designed to help dentists protect both patients and themselves from the transmission of infectious diseases, recommend dental care providers use the following 4 types of personal protection equipment:
Surgical mask – ASTM Level 3 masks offer the maximum barrier protection against aerosols.
Eye protection – Googles, protective eyewear with solid side shields, or full-face shields may be used.
Protective clothing – Protective gowns should be discarded or disposed after each procedure.
Gloves – Disposable glove use should be combined with frequent hand washing.
Additional Dental Safety Protocols
In addition to wearing the recommended PPE, your dentist in Waverly likely has also implemented additional dental safety protocols at their office. Here are some ways dentists are underlining their commitment to patient safety during these unprecedented times:
Patient Pre-Screening – No-touch temperatures checks are conducted on each patient upon arrival.
Practicing Social Distancing – Maintaining six feet of separation is being made possible by reducing the number of chairs in reception areas and redesigning the flow of foot traffic.
Sequenced Patient Scheduling – Dentists are seeing fewer patients and dedicating time in between patients to clean the areas.
Thorough Cleaning – Dental staff are wiping, sanitizing and disinfecting all instruments, equipment and surfaces around each dentist's chair after every patient.
Why Dental Checkups Are So Important
The mouth is the gateway to the body and the immune system, so prioritizing your oral health is more important now than ever. Biannual dental checkups are vital opportunities for your dentist to professionally clean your teeth and inspect your smile for signs of tooth decay and other serious oral health issues, including oral cancer.
While feeling some uncertainty is understandable, rest assured now is the right time to hop back into the dentist's chair. Before you schedule your next checkup, ask your dentist in Waverly what extra steps they are taking to ensure your safety.
About the Author
Dr. Jonathan Smiley is proud to provide high-quality dental care to patients from Waverly and surrounding communities. Dr. Smiley always prioritizes patient safety, which is why he recently implemented 15 new safety protocols at Smiley Family Dentistry, including the use of PPE by all staff. To learn more about the proactive measures Dr. Smiley is taking in light of the COVID-19 pandemic, visit the Smiley Family Dentistry website or call 319-352-2270.