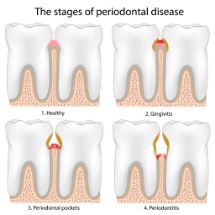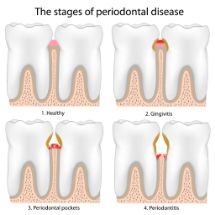 Dementia is now the 5th leading cause of death worldwide, with Alzheimer's comprising 70% of all cases. Unfortunately, this disease has been poorly understood, which has greatly undermined treatment and prevention efforts. However, a surprising link has been found that offers a new perspective on this devastating disease. It's thought that gum disease (also called periodontal disease) could play a big role in the development of Alzheimer's, which makes good oral health more important than ever. In this blog, you'll learn more about the research and how regular care from a dentist in Waverly can improve your gums and potentially reduce your risk of Alzheimer's.
How Is Gum Disease Linked To Alzheimer's?
A recent article from New Scientist explores the recently found evidence that gum disease may contribute to Alzheimer's. For many years doctors thought it was caused by amyloid plaques in the brain, but now it's thought that these plaques are only a symptom, not a cause.
In fact, doctors think these plaques form in the brain to protect it from infection by Porphyromonas gingivalis (or P. gingivalis), the same bacteria that causes gum disease.
Scientists aren't exactly sure of the pathway from mouth to brain, however, they know that plaque and tartar include large amounts of P. gingivalis bacteria.
When this bacteria collects under the gumline, it not only causes inflammation of the gums, but also enters the bloodstream and travels throughout the entire body. Once in the brain, it may lead to infection and inflammation there as well.
Studies are ongoing, but doctors hope this will help them develop better ways of preventing and treating Alzheimer's disease.
How Can You Prevent Gum Disease?
Unfortunately, an estimated 65 million Americans have some form of gum disease, which has not only been linked to Alzheimer's, but also heart disease, stroke, pregnancy complications, and even some cancers. Not to mention that it's also the leading cause of tooth loss!
Clearly, it's well worth it to keep your gums as healthy as possible. Here are some easy ways to do that:
Schedule regular checkups – Regular checkups include an annual gum evaluation so that gum disease can be found and treated in its earliest stages. If you have healthy gums or mild gingivitis, regular checkups and good habits at home will maintain them.
Maintain great oral hygiene –Brush at least twice each day and floss once. There are also many helpful aids such as electric toothbrushes and oral irrigators that will make your routine more effective.
Get gum therapy if necessary – A procedure called scaling and root planing (or a "deep cleaning") is typically the first type of gum therapy that's recommended. This removes plaque and tartar and smooths the roots of the teeth to prevent bacteria from accumulating. Afterward, a topical antibiotic gel can be placed directly under the gumline to further treat the disease.
Preventing gum disease is certainly important for your smile, but it's also important for leading a long, healthy life. With regular dental care and good practices at home, you'll be able to keep your gums in great shape!
About the Author
Dr. Jonathon Smiley is a family dentist and a graduate of the Southern Illinois University School of Dental Medicine. By helping his patients achieve great dental health, he aims to reduce their risk of general health problems as much as possible. If you have any questions about your gums or the cause of Alzheimer's in Waverly, he can be contacted through his website.