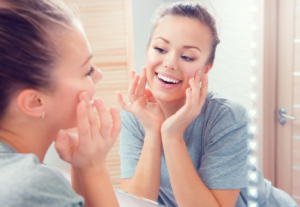 When you look in the mirror, do you see a bright, white smile? If so, you probably think that you have optimal oral health; however, this may not be true. The color of your teeth does not necessarily indicate their health. While a bright smile may be beautiful, you may have weaker enamel, especially if you use whitening products excessively. Although tooth discoloration may make your teeth appear unhealthy and dull, research shows that yellow may indicate a greater level of dental health. To ensure that your smile is healthy and attractive, your dentist in Carrollton has the facts you need.

Color Does Not Indicate Health
Often, yellow teeth have a bad reputation for poor dental hygiene; however, this is not always true. The color of your enamel is naturally a bluesish white color with the underlying dentin being yellow. Since the enamel is translucent, it can cause the color of the dentin to shine through, causing a discolored appearance.
With 15-20% of adults dissatisfied with the appearance of their teeth, many have come to turn to whitening treatments. These are effective for reversing tooth discoloration and will not impact the health of your teeth if used properly, but you should not use the color of your enamel to indicate your dental health. In addition, whitening treatments, especially whitening strips, should not be used as a substitute for oral hygiene. If you want a healthy, beautiful smile, it is best to be proactive about your dental health.
Brush and Floss Regularly
Your home oral hygiene habits are your first line of defense against dental issues while also helping to reduce stains caused by foods, drinks, and other factors. It is recommended that you brush your teeth twice a day for at least 2 minutes each session using a soft-bristled toothbrush and fluoride toothpaste. Clean all surfaces well. Do not forget to brush your tongue to remove harmful bacteria.
Visit Your Dentist
Although your home oral hygiene habits are effective for protecting your smile, it is only half of the care you need. You also need a checkup and dental cleaning in Carrollton twice a year. However, if you have periodontal disease, your dentist may recommend more frequent appointments.
During your visits, your dentist will remove harmful plaque and tartar accumulations that have been left behind when brushing and flossing. In addition, they will monitor your dental health to look for any areas of concern to quickly intervene.
If you are concerned about the color of your enamel, you can discuss professional whitening treatments during your appointment. You can reverse tooth discoloration without compromising the health of your teeth and gums.
Get a Healthy Smile!
Do not be fooled by a white smile. Be proactive about your dental health with home oral hygiene habits and regular care from your dentist.
About Dr. Jonathan Smiley
Dr. Jonathan Smiley is committed to creating healthy, beautiful smiles in the community. He develops customized solutions to help you achieve your oral health goals. If you need a preventive appointment or would like to see if teeth whitening is right for you, contact Smiley Family Dentistry to schedule an appointment.