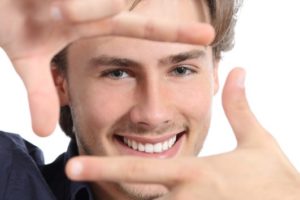 Several advancements over the years have made it possible to preserve natural teeth for longer than before; however, 120 million Americans are still living with at least one missing tooth. Among the leading cause of tooth loss is due to a preventable infection, known as periodontal disease. It is estimated that 50% of adults have a form of it. Although it is easily treatable, it often progresses to advanced stages without an aggressive treatment plan, leading to the destruction of the teeth and the gingival tissue. After tooth loss occurs, many are now turning to dental implants in Waverly to regain a complete smile. To repair the damage to the gum tissue, connective tissue grafting may also be needed to rehabilitate your oral health.

Why Do I Need Gum Grafting?
Your gum tissue helps to seal bacteria from reaching the roots of your teeth and underlying bone while also offering a layer of protection. When the tissue becomes damaged, it can cause the roots of your teeth to become exposed. This not only causes the appearance of your gum line to suffer, but it can also lead to tooth sensitivity and pain. To cover the roots, connective tissue grafting in Waverly can help.
In addition to covering the roots of your teeth, it is often combined with dental implants. When gum disease has led to the loss of your teeth, you will not have enough tissue to effectively cover the implant posts or the abutments. To ensure an aesthetically pleasing smile, new tissue can be grafted to create a more natural-looking, healthy gum line.
What Can I Expect with a Connective Tissue Graft?
To ensure your comfort during the procedure, a local anesthesia and sedative are used for a pain-free treatment. To restore the gum tissue, a small amount of tissue will be removed from the skin under the roof of your mouth, known as the subepithelial connective tissue.
The new piece of tissue will then be stitched to the area that needs to be treated to cover the roots of your teeth or the dental implant. As the healing process begins, the tissue will regenerate a healthy, beautiful gum line.
After your procedure, it is normal to experience some swelling and bleeding, but they will dissipate within a few days. While you recover, it is best to stick to a soft diet and brush and floss carefully.
Restore Your Smile Today!
If gum disease has caused your gingival tissue to become to become damaged, you can restore its health and appearance with connective tissue grafting. See if it is the right option for you today!
About Dr. Jonathan Smiley
Dr. Jonathan Smiley strives to help his patients achieve healthy, beautiful smiles. Supported by extensive training and qualifications, he offers many specialty services, including the treatment of periodontal disease and provides tooth replacement options. If you need to rehabilitate your oral health, he has the solutions you need. Contact Smiley Family Dentistry today to schedule your consultation.