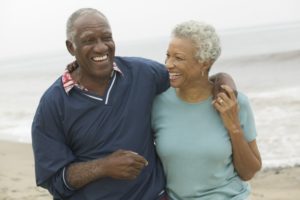 If you've heard that dental implants look great as an option for tooth replacement, you heard right. But there's also the benefit of a tremendous smile for more years – as in living longer!
Tooth loss opens the door to an array of health problems. That's why it's important to decide on a tooth replacement method and act as soon as possible.
Keep reading to learn how choosing dental implants in Waverly can raise your life expectancy and make sure you look your best as you enjoy the ride.
Boost Your Self-Esteem
People who have worn dentures understand the insecurity that can come with realizing they might slip out of place at times. And having missing teeth can be hard on one's self-image.
When you are too hard on yourself, it can cause you to withdraw from the important people in your life or skip out on the exercise you used to be more consistent about doing. As dental implants look just like your natural teeth, they help provide a smile you feel better about seeing in the mirror each day.
Equip Yourself to Choose Nutritious Foods
People who wear dentures have a lengthy list of foods they are supposed to avoid eating. The real kicker is that a lot of those items are high in nutritional value and it's not good for them to be off the table. For example, raw veggies like carrots are chock-full of nutrients. They lessen a person's risk for several health issues, but they are also a chewing challenge for denture wearers.
Due to the ease that soft, processed foods offer people with dentures, they are often chosen over much healthier options. Fortunately, when you go with dental implants for tooth replacement you can munch on carrots and make other quality dietary decisions a breeze.
Lower Your Odds of Dealing with Periodontal Disease
Getting dentures will require you to learn a different cleaning method than you've been accustomed to with your teeth. And flossing isn't exactly easy when you have a dental bridge. But if your cleaning methods aren't up to par, each of those options is going to be a haven for oral bacteria to put you at risk of gum disease and further tooth loss.
If periodontal disease is detected in its preliminary stages, it is treatable. When left untreated for too long, however, you must worry about type-two diabetes, heart attack, and stroke.
Since the cleaning process for dental implants is simple, the threat of gum disease is not as high. All you have to do is brush and floss like you would for natural teeth.
Dental implants are a significant investment and getting them requires minor oral surgery, so it is important for you to be sure about them. But it's investing in your quality of life. Everyone wants a great smile that also allows them to enjoy all the foods they once did. If that sounds like you, the first step is to schedule a consultation with your implant dentist in Waverly to upgrade your future!
About the Author
Dr. Jonathan Smiley strives to foster an atmosphere of trust and comfort in his dental practice where each patient receives quality care and education on how they can achieve optimal oral health for many years to come. His grandpa and uncle were both dentists, which opened his eyes to the possibility, plus Dr. Smiley jokes that his last name left him no other professional choice. His favorite part about dentistry is to help people heal from the issues they seek help for and to see them feel better after treatment. If you are interested in dental implants, he can place and restore them in-house, he uses cone beam CT scanning for precise implant placement, and Dr. Smiley promises fair fees with no surprises. To schedule a consultation so you can discuss your specific dental needs with him and the potential for implants to upgrade your smile, visit his website or call (319) 352-2270.