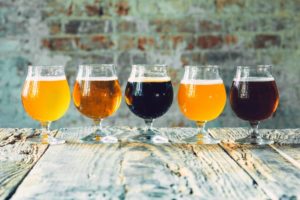 For some people, the craft beer scene is truly a lifestyle. Exploring new breweries, or during the pandemic, getting to-go growlers, and trying the new seasonal beers is a fun hobby. The last thing you're probably thinking about when you're sipping on a foamy brew is whether it's affecting your oral health. Read on to learn about how beer can have both a negative and positive impact on your teeth and gums, and what you can do to protect them.
The Bad News
Whether you're drinking a stout or an IPA, all beer is crafted using a cereal grain that's fermented. The fermentation process makes it alcoholic and carbonated, which is when it can start having a negative impact on your oral health.
Acidity & Enamel Erosion
The pH inside of your mouth is between 6.2 and 7.0. When you eat or drink anything that has a pH below 5.7, it can start to erode a very important protective structure in your mouth, called your enamel. This layer of your teeth is made from the hardest substance in your body and is tasked with protecting them from cavities and infections. Once it's eroded, the more sensitive and vulnerable inner structures won't be so good at protecting your pearly whites.
Dental Staining
A nice dark stout may look refreshing, but if you love your bright smile, it may be a good idea to think twice about sipping on it. The dark color can transfer onto your teeth, causing your smile to look dingy or unhealthy, even though it may not be.
The Good News
If you love beer, there's good news about the impact that it has on your oral health as well! Due to the fermentation process that makes it into alcohol and the natural ingredients used to brew it, like hops and barley, it can also aid in fighting off bad bacteria.
Hops & Barley Are High in Calcium
Both hops and barley, which are two key ingredients in beer, are high in silicon and calcium, which helps promote strong bones and teeth! A good rule-of-thumb is: the lighter the brew, the more calcium and silicon it has to offer. So, if you love pilsners and IPAs, you've been reaping the benefits of beer for awhile and never even knew!
The Fermenting Process is Good for the Oral Microbiome
There are tons of good bacteria in beer that can help balance out your oral microbiome and ensure that there aren't too many harmful bacteria lingering around. Plus, hops have antibacterial qualities that have been shown to prevent the development of microorganisms in your mouth. Since common oral problems like gum disease and cavities are a result of harmful oral bacteria accumulation, this is a huge benefit to your oral health!
The Key to a Healthy Smile Without Giving Up Beer
As long as you drink in moderation, make sure that you don't sip on your beer throughout the day, and stay hydrated, you should be able to enjoy beer without it having a negative impact on your smile. Pair these practices with good oral hygiene and routine checkups and cleanings, and you'll be able to get the most out of your brews with peace-of-mind knowing that your grin is healthy!
About the Author
Dr. Jonathan Smiley is passionate about educating his patients about small habits and lifestyle choices that could have an impact on their oral health. By doing this, he aims to ensure that everyone who visits his practice is able to enjoy a smile that's healthy for a lifetime. He also keeps up-to-date with the latest research and advancements in his field so he can continue providing cutting-edge care to his patients. For questions or to schedule a checkup and cleaning, visit Smiley Family Dentistry's website or call 319-352-2270.