Multiple Tooth Implants – Waverly, IA
Got Multiple Missing Teeth? Consider Dental Implants!
Tooth replacement options typically include the restorations you likely are already familiar with, including bridges and dentures. While these options work well to replace the visible portions of teeth, they aren't exactly tissue deep. In contrast, dental implant-supported tooth replacements work to replace the entire tooth, which includes the root. Compared to traditional options, implants feel more natural because they stimulate the underlying alveolar bone, which includes the jawbone.
While Smiley Family Dentistry offers traditional solutions for tooth loss, it's always worth it to consider what multiple tooth implants in Waverly, IA have to offer. Before making your decision, schedule a consultation with Dr. Jonathan Smiley to find out which option is best for you!
Why Choose Smiley Family Dentistry for Multiple Tooth Implants?
Skilled Dentist Who Performs Implant Placement
Respectful, Caring Dental Team
Lifelike Restorations Made from Quality Materials
Non-Implant Tooth Replacement Options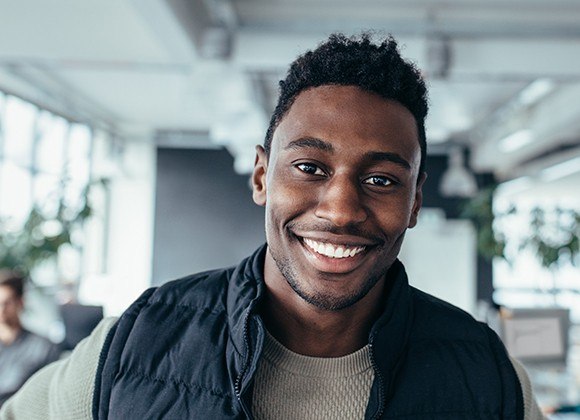 Crown & Bridge – For those looking for a less invasive solution to tooth loss, a crown and bridge is ideal for replacing one to three teeth at a time. A bridge consists of multiple replacement teeth connected together. The crowns on either side are designed to fit on top of existing natural teeth. Keep in mind you will need healthy remaining teeth in order to have it placed. Healthy teeth are buffed down so they can act as an anchor for the restoration.
Learn More About Dental Crowns & Bridges
Partial Dentures – Replacing multiple teeth, regardless of where they are in the mouth, is simple with a partial denture. Partial dentures use healthy existing teeth as well as a series of metal clasps to stay in place. This denture is custom-made to rest inside your mouth exactly for the most comfortable and natural-looking fit possible.
Learn More About Partial Dentures
Full Dentures – If you're missing an entire arch, a gum-colored prosthetic with porcelain crowns set into it can be fabricated. Full dentures rely on natural suction to stay in place. In the first weeks of use, you may use denture adhesive to secure it as your mouth adjusts to the denture. It's the perfect way to partially restore teeth quickly and without surgery.
Learn More About Full Dentures
The Dental Implant Process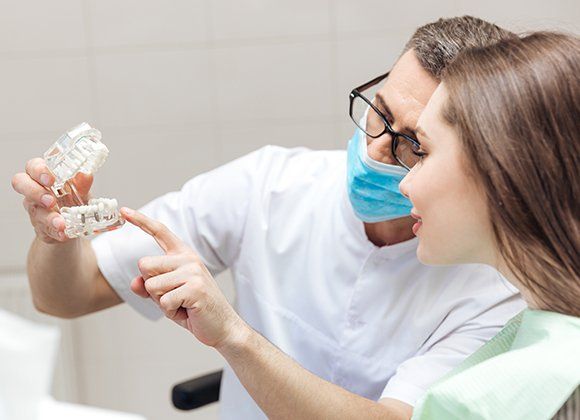 If you want a longer-lasting solution for tooth loss, now is the time to start planning for dental implant treatment. Treatment time spans several months, first starting with the preparation stage. This involves potentially removing teeth, gathering 3D scans of your bite, and creating custom restorations. We'll also schedule all of your necessary appointments ahead of time, including surgery, abutment placement, and restoration.
During the second phase, commonly referred to as the surgical stage, we'll make an incision inside your gum tissue and place the implant. Over the course of several months, the implant will integrate with your existing bone and your gum tissue will heal around the implant. During the final stage, you'll come in to have your restoration placed.
Benefits of Implant-Retained Dental Prosthetics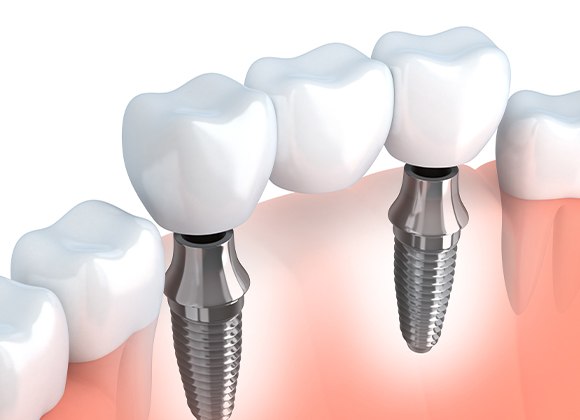 No need to remove your replacement teeth for cleaning
Most comfortable and stable replacement possible
Restoration for the entire tooth, allowing for optimal blood flow and the ability to maintain your face's current shape and appearance
A long-lasting solution for tooth loss (implant-supported structures can last 30 years, while bridges typically last 10 years)
Find out More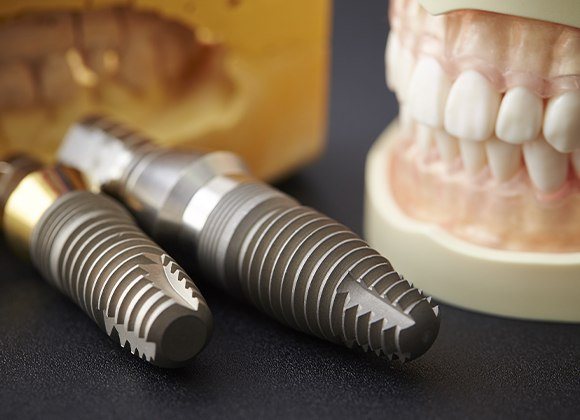 Ready to get started rebuilding your smile? Contact our dental office today and learn which multiple tooth replacement option is best for you! Dr. Smiley and his team serve all communities in Waverly and the surrounding area.