Dental Crowns & Bridges – Waverly, IA
Restoring Damaged or Missing Teeth
Missing and broken teeth are nothing to smile about. Whether you're struggling with a simple crack or a tooth that's missing altogether, what's most important during times of dental damage is that you receive revitalizing care as soon as possible. At Smiley Family Dentistry, Dr. Jonathan Smiley offers quality, custom-made dental crowns and bridges in Waverly, IA that erase decay and replace lost structure in a sturdy, seamless fashion. With all-ceramic options available, patients from Waverly, IA and beyond maintain their smile's gorgeous, natural appearance. Contact us today to schedule your first appointment!
Why Choose Smiley Family Dentistry for Dental Crown & Bridges?
Metal-Free Restorations Available
Dental Insurance Accepted
Friendly, Non-Judgmental Dental Team
Dental Crowns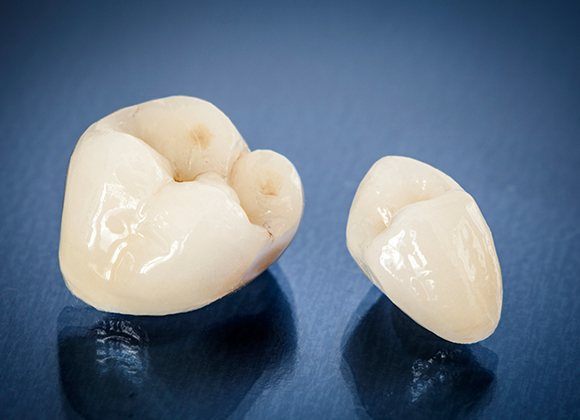 Crowns are the recommended treatment when a patient is suffering from dental decay that's too severe to treat with a filling, inlay, or onlay. Also known as caps, dental crowns are used in cases of broken or misshaped teeth to improve appearance and protect them from harm. If you've had a root canal to remove infection from the core of a tooth, then a crown is the final step in this procedure to preserve a tooth that might otherwise require extraction.
Receiving a dental crown usually requires two appointments with Waverly dentist Dr. Smiley. At the first visit, our team will prepare the tooth. To do this, Dr. Smiley removes any decay if present and then files down the tooth to make room for the crown; a crown should not crowd other teeth or interfere with the opposing tooth when you bite down. Once we've reshaped your tooth, we'll take detailed molds to send to a trusted dental laboratory—one that we know will deliver a quality finished product to ensure that the patient is completely satisfied with the result.
In the weeks between appointments, we provide a temporary restoration, so patients always enjoy a complete smile. However, you will need to be a bit careful while wearing the temporary, which is made of acrylic and is not as strong as porcelain. As much as possible, try to chew on the other side of your mouth.
When your permanent crown arrives, you'll return for your second appointment. Dr. Smiley will remove the temporary and cement the permanent dental crown into place.
Dental Bridges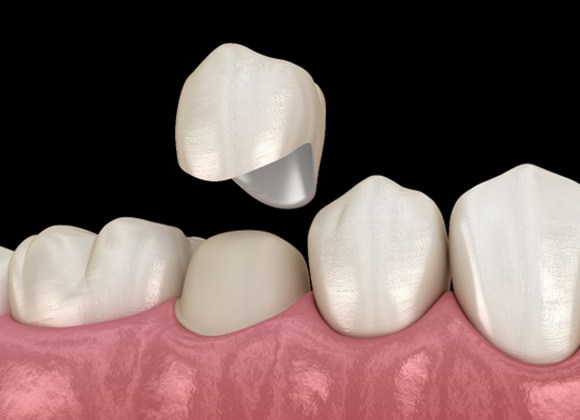 Dental bridges offer patients with one or more missing teeth in a row the sturdiness and stability they've been missing. Dr. Smiley designs your bridge, so it matches your existing smile, and once we receive the finished product, our team uses dental crowns to anchor the bridge.
Abutment teeth on either side of the gap in your smile are prepared to accommodate crowns. Just as we do with crowns, we'll give you a temporary bridge, so you'll be able to comfortably chew and smile.
Our dental lab creates a prosthetic that combines the crowns and bridges in a single piece. Once cemented into place, your bridge is fixed and non-removable. To care for your bridge, brush and floss as you do for your natural teeth. Plus, we'll give you a special threader that will allow you to floss underneath the bridge when plaque and debris become trapped.