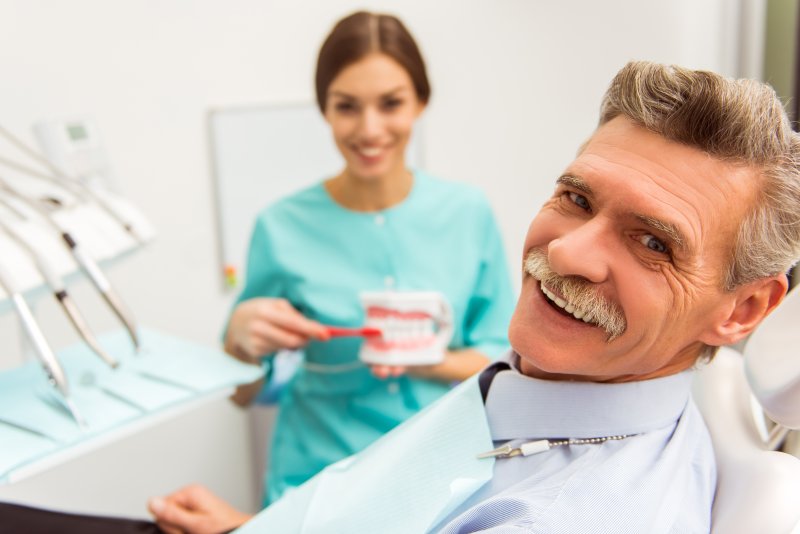 Many people are now considering dentures as a long-term solution to their future oral health for the first time, and they have lots of questions.
Depending on the process you went through to receive your dentures, you might have been without teeth for a few months before your prosthetics arrived.
All that is behind you now and with this new journey comes excitement and a period of adjustment. The first month is a pivotal phase when the most adaptation occurs after your transformation. Continue reading to understand the challenges ahead and find some tips that are vital to your success.
Adjusting to the Feeling in Your Mouth
The first thing you'll need to adjust to is the feeling of having your dentures in. It's normal for your tongue to feel cramped or to feel like your dentures aren't actually there. Your facial expressions may look or feel different because of the adjustment of your lip to the dentures as they suction themselves to your gums.
There will be a period of acclimation to this, but it will pass as you continue to wear and use them. Eventually, your mouth will relax more, and you'll feel less "plastic." This accommodation may happen in your first month, but if it doesn't there's no need to panic. Everyone is unique and adapts to change at different rates.
Talking May Be Harder
While your mouth is adjusting to your new dentures, your body is recognizing them as foreign objects, causing you to salivate more. This excess saliva, in addition to different placement of your teeth and tongue, may throw off your speech for a while.
To resolve these issues, be sure to drink water to dilute the saliva in your mouth and swallow more regularly. At the same time, practice reading aloud to help your tongue rapidly adjust to the new positioning of your teeth.
The Way You Eat Will Change
Eating with dentures can be challenging at first. It can be hard to "feel" your way around food, and your tongue, lips, and cheeks may not have fully compensated for the prosthetics yet. This can lead to denture slippage, bitten cheeks and tongue, and drooling.
There are a few ways to avoid these annoyances:
Cut your food into smaller bites.
Chew on both sides of your mouth to avoid unbalancing your dentures.
Avoid biting down on your food with your new front teeth.
Practicing these methods will help your mouth to adjust to the prosthetic and allow you to enjoy many of the foods you did before.
Gum Soreness and Pain
Some soreness may occur within the first few days after you receive your new dentures, but it should quickly subside. This soreness is often caused by the prosthetic pressing on the inner profile of your lower gums while your mouth adjusts.
If the pain does not subside after two to three days, or if your gums become swollen or inflamed, remove your dentures and seek your dentist immediately. Dentures should never cause pain, so if this happens, your prosthetic will need to be adjusted.
Remember, this is just the beginning of your denture journey. Embrace the lessons learned and continue working closely with your dentist to ensure that your smile remains vibrant, comfortable, and a source of pride.
About the Author
Dr. Jonathan Smiley takes great satisfaction in the work he does, healing his patients and restoring their confidence. He received his Doctor of Dental Medicine degree before attending the prestigious Dawson Dental Academy where he learned advanced diagnostic and problem-solving techniques in a rigorous training course. He is also a proud member of the Academy of General Dentistry. To schedule a denture consultation, or learn about other services Smiley Family Dentistry can provide, visit their website here or call (319) 352-2270.