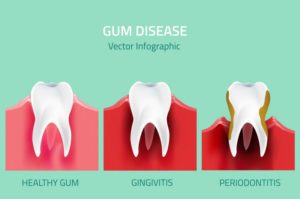 Most of us are familiar with the sinking feeling of hearing your dentist say that you have a cavity. However, there are two other words that you never want to hear your dentist say at your checkup: "gingivitis" and "periodontitis." These words certainly sound scary, but what exactly do they mean? They're actually the two stages of gum disease. Knowing the difference between gingivitis and periodontitis, and seeking treatment right away, can save your smile. Here's what you should know about gum disease in Waverly.
Gingivitis: A Warning of Potential Danger
In the early stage of gum disease, known as gingivitis, plaque accumulates between the teeth. The gums become inflamed and may bleed easily when flossing or brushing. Fortunately, no permanent damage has occurred yet.
Without treatment, gingivitis progresses into periodontitis and wreaks havoc on your smile. The good news is that gingivitis can often be reversed with regular dental checkups and cleanings as well as daily brushing, flossing, and rinsing with mouthwash.
Periodontitis: Irreversible Damage to Your Smile
When gingivitis worsens into periodontitis, the gums become so infected that the tissue begins to pull back from the teeth, creating pockets. Debris can collect in these pockets, accelerating the infection. Eventually, the bone and tissue holding the teeth in place are destroyed. Teeth can loosen and even fall out altogether.
How to Tell Whether You Have Gingivitis or Periodontitis
The symptoms of gingivitis are sometimes barely noticeable until they have advanced into periodontitis, so it's important to keep an eye out for the slightest signs of trouble. Gingivitis commonly causes the gums to become red, swollen, or tender. Bleeding when you brush or floss is another major sign of gingivitis. Contact your dentist right away if you notice any of these symptoms; they can help you reverse the condition.
Periodontitis is much more obvious because the infection has already caused serious harm to your smile. Common signs of advanced gum disease include:
Pain when biting or chewing
Severely swollen or red gums
Receding gums
Clear pockets between the gums and the teeth
Teeth that feel loose or crooked
Persistent bad breath
Be Proactive About Your Smile's Health
Gum disease can impact almost anyone, but it's more likely to occur in older patients and those who have a history of poor oral health. That's why it's crucial to keep up with your dental hygiene and alert your dentist if you notice any problems. The sooner your dentist can administer periodontal treatment in Waverly, the higher chance you have of saving your smile!
About the Author
Dr. Jonathan Smiley obtained his Doctor of Dental Medicine degree at the Southern Illinois University School of Dental Medicine. Through his advanced training at the prestigious Dawson Academy, he is able to treat complex oral health issues, including gum disease, through non-surgical procedures. To learn more about preventing gum disease in Waverly, visit Dr. Smiley's website or contact his dental office at (319) 352-2270.