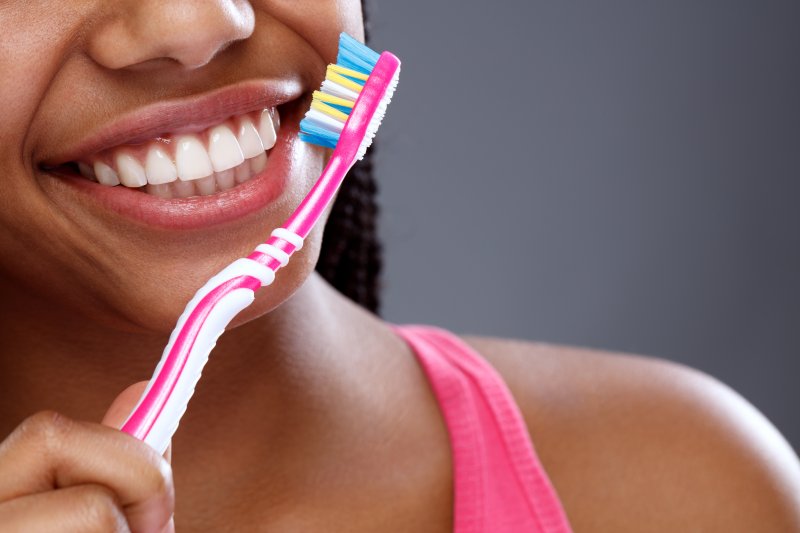 COVID-19 likely has you stuck indoors these days. If you're looking for ways to pass the time, why not consider what you can do to improve your smile's health and appearance? While keeping up with dental hygiene during quarantine might seem "boring," you'll be pleased to know that the more you do now, the better off you'll be when it comes time to see your dentist for a regular checkup and cleaning. Check out these helpful tips that will help you to take control of your oral health and avoid cavities, gum disease, and bad breath.
Brush Your Teeth the Right Way
Believe it or not, there is a right and wrong way to brush your teeth. If you want to make sure you're thoroughly cleaning your pearly whites and removing all harmful bacteria, make sure you are doing the following:
Using fluoride toothpaste. This will strengthen tooth enamel as well as protect against decay and ultimately, cavities.
Brush the backside of your teeth as well as along the gum line.
Use a timer to help remind you of how long you should brush. The appropriate amount of time is two minutes.
Regularly clean your toothbrush bristles to avoid harmful germs from re-entering your mouth. Also, replace your brush every 3-4 months.
Drink Lots of Water
Water is a miracle substance that can benefit your body in many ways. Apart from its ability to flush out toxins and keep you hydrated, it also washes away debris from inside your mouth and increases saliva production. When your mouth becomes dry, you will become more susceptible to bad breath. By drinking plenty of water, you will avoid the possibility of what is known as "cotton mouth" and instead, keep your salivary glands working at an optimal level.
Give Your Teeth Proper Care Before Bed
Should you brush your teeth before bed? Yes. What about flossing? Absolutely. While it's recommended that you floss once a day, you should wait to do this right before you call it a night, and here's why: The foods and drinks you consume throughout the day sit on your teeth and can lead to tooth decay and gum disease. If you maintain a routine of flossing before going to bed, you will set your smile up for a great day ahead. By removing these particles from your mouth at night, you give your teeth and gums a chance to breathe and remain free of harmful bacteria for longer.
Use ADA-Approved Toothpaste
Hopefully, the toothpaste you have at home has the famous Seal of Approval by the American Dental Association (ADA). Not only does this state that the product is safe for usage, but it also serves as a reminder that it is effective at keeping smiles healthy by removing bad bacteria and germs from within your mouth.
While it might not seem glamorous or fun to improve upon your oral hygiene habits at home, you can rest assured that your next appointment will be met with a positive report because of the hard work you put in while in quarantine.
About the Author
Dr. Jonathan Smiley is a dentist in Waverly, IA, who believes preventive care is the best way to avoid serious dental problems throughout your life. From regular checkups and cleanings to good oral habits practiced at home, he enjoys seeing patients with healthy, beautiful smiles. Unfortunately, these preventive visits are not possible right now due to COVID-19. However, he and his team are happy to provide patients with helpful tips and advice on how to improve oral health at home. To learn what you can do to better protect your smile during this time, contact us via our website or by calling (319) 352-2270.