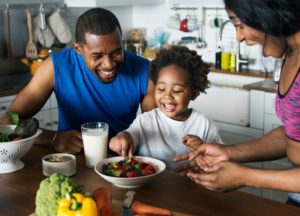 It's a wonderful thing to see your little one growing healthy and happy, and that includes their smile! So, naturally, you want to do all you can to protect their teeth and gums, especially considering the statistics regarding children's oral health. According to the Centers for Disease Control and Prevention, 20% of children between the ages of 5 and 11 have at least one untreated decayed tooth. The percentage jumps to 57% by the time they reach ages 12-19! One of the contributing factors is diet. Read on to learn more about the link between food and your child's dental health, as well as some nutritional tips!
How Does Your Child's Diet Impact Their Oral Health?
Teeth have a protective coating called enamel which keeps the inner layers and roots safe from decay. While this outer barrier is the hardest substance in the body, it can still be destroyed. It can erode if your pearly whites are not cared for properly, which leads to tooth decay, cavities, and even tooth loss in severe cases.
One of the main culprits that put your child's teeth enamel at risk is sugary foods and beverages. Treats like candy and sugar interact with the bacteria in their mouth and turn into destructive acids. These acids attack your little one's pearly whites and damage their enamel, resulting in poor dental health. This is why it's best to opt for nutrient-rich meals and snacks as often as possible!
How to Implement Smile-Friendly Foods
When planning and preparing meals and snacks for your child, it's important to place the most emphasis on vitamin-rich choices. This will keep their teeth, gums, and overall well-being in its best condition. While it's common knowledge what the basics of a healthy diet are, here are some fun and creative ways to implement them in their diet:
Fresh fruit – They say variety is the spice of life! Have your child try a different kinds of fruit to see which one is their favorite. Instead of just apples and bananas, introduce them to other delicious choices like kiwis, starfruit, and melon.
Crunchy vegetables – For veggies like carrots and celery, dips go a long way with children. There are so many delicious recipes on the internet, like homemade ranch, honey mustard hummus, and creamy cheese dips!
Dairy products – To make different cheeses appealing to your child, have them use small cookie cutters to make shapes in the slices. For cavity-fighting yogurt, let them choose which toppings they'd like, such as blueberries or sugar-free chocolate.
Lean protein – Eggs or skinless poultry are great options to nourish your child's body and smile. Try having an "Egg Taste Test"—cook eggs together in various ways (scrambled, hard-boiled, over-easy) and see which one they like best! For meat options, adding gravy or dips like ketchup can make them more enjoyable.
To keep your favorite smile safe from tooth decay and other dental issues, help them eat a broad range of vitamin-rich foods. They will be sure to enjoy strong and healthy teeth and gums for many years!
About the Author
Dr. Jonathan Smiley and his team at Smiley Family Dentistry are eager to help you keep your child's smile whole and healthy through every stage of their life. He provides a full range of dental services, including preventive, restorative, cosmetic, and emergency care. In addition to dental cleanings, he offers dental sealants and fluoride treatments to keep your little one's teeth and gums safe from harm. To schedule an appointment, contact him through his website or call (319) 352-2270.