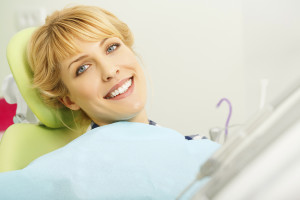 You brush your teeth with fluoride toothpaste twice each day and you floss at least once a day. We applaud your efforts—we really do. That said, however, we want you to know that your at-home oral hygiene routine is simply not enough to ensure that you have healthy teeth and gums. Regular dental checkups are essential. During these biannual visits, Dr. Smiley and his team take the time to perform a thorough dental cleaning Waverly residents have come to know and trust. In addition, we'll closely examine each one of your teeth and take annual digital x-rays to spot tooth decay early in development. Read on to learn more about the importance of these appointments.
The Advantages of Professional Dental Cleaning
Our hygienists and Dr. Smiley have an excellent reputation in Waverly for providing a comprehensive dental checkup that includes teeth cleaning. The hygienist will use a rotary brush to clean and polish each one of your teeth individually. Then, a special handheld instrument is used to gently scrape away bits of tartar, which is calcified plaque that has hardened on your teeth usually along the gum line. Removing this caked on substance is essential in the fight against gum disease. And while you may be able to remove plaque with daily flossing at home, only your hygienist can get rid of tartar during one of your dental cleanings.
Preventing Tooth Decay
The fight against tooth decay is a daily battle. Your mouth is filled with millions of oral bacteria just waiting to feast on particles of food that are left behind every time you eat. These bacteria excrete acidic waste that can begin to erode tooth enamel, which may eventually lead to a cavity.
Discovered early, a cavity can be quickly remedied with a tooth-colored filling. Left untreated, however, tooth decay can lead to a number of serious problems.
As tooth decay expands, infection can set in deep inside your tooth. Eventually, root canal therapy may become necessary to remove the infection and preserve the tooth. Alternatively, an extremely serious tooth infection may require extraction. And one missing tooth increases the likelihood of additional tooth loss. Therefore, you serve your oral health well when you stick to a twice-yearly schedule of dental checkups.
Contact Our Office Today
Your "dentist near me" and his staff want to help you have a smile that is healthy and beautiful so don't delay your next dental checkup. Call our office today!