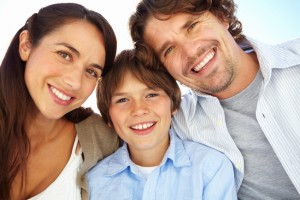 At Smiley Family Dentistry, we're so excited to unveil our brand new blog! We think this can be a great way to bring you the latest information as it relates to your oral health and our practice. Please check in periodically to see what's going on with your dentist in 50677! To kick things off, we thought it would be good to share a snapshot of our services — what you can expect to find from Smiley Family Dentistry, where we restore oral health and celebrate each and every beautiful smile!
Preventive and pediatric dental care in Waverly IA
It's always easiest to stop problems before they even start, and it's no different with your oral health. At Smiley Family Dentistry, we're committed to providing excellent preventive care to help you and yours enjoy healthy smiles for a lifetime. Our patients of all ages know they can count on the following services for strong teeth.
Regular checkups and cleanings

Nightguards for bruxism

Sports guards

Oral cancer screenings

Dental sealants and fluoride treatments for children
Cosmetic dentistry
After your teeth are as healthy as can be, the fun can begin — and we've got lots of services in cosmetic dentistry to make your smile shine like you've always dreamed. It's not reserved for the fabulous or the wealthy… in fact, we believe all our patients could benefit from some aspect of cosmetic dentistry. Whether it's a simple teeth whitening treatment or something a little more involved, Smiley Family Dentistry offers a number of services in this area.
Dental implants
Patients missing one or more teeth can benefit greatly from dental implants in Waverly IA. By far the best option in tooth replacement, dental implants give you back the missing tooth as well as its root — for a truly comprehensive solution.
Periodontal disease treatment Waverly IA
Did you know that approximately 75 percent of Americans suffer from gum disease? If you're one of the majority, you can seek treatment for the condition at Smiley Family Dentistry! Whether it's antibiotic treatment, more frequent cleanings or scaling and root planing, we've got a solution to restore your health after periodontal disease gets in the way.
Emergency dentistry
There's no planning for a dental emergency, but you can help yourself be a little more prepared knowing you can call Smiley Family Dentistry for quick attention. Knocked out teeth, broken teeth, severe toothaches and cuts to the soft tissue of the mouth all qualify as dental emergencies — and time is of the essence when one of them happens to you or a loved one. Call the emergency dentist in Denver IA as soon as possible!
Book your visit today
Are you ready to experience the difference having a truly excellent dentist can make in your life? If so, please don't wait to contact Smiley Family Dentistry. We're here for the smiles of you and your loved ones — request your visit online today!