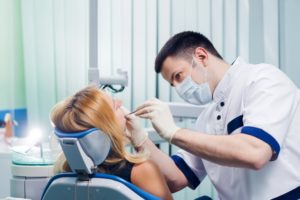 If your smile has suffered significant damage from decay, disease, or trauma, you might be a candidate for full mouth reconstruction in Waverly. Your dentist can restore and replace compromised teeth using advanced dental procedures. After performing a thorough consultation, they'll create a customized treatment plan to rehabilitate your smile. Although everyone's plan differs, here are a few of the most common procedures used during full mouth reconstruction.
1. Dental Crowns
A dental crown is a protective cap bonded over the entire surface of a tooth visible above the gum line. It's an effective solution to restore the health and function of a tooth; however, it also offers cosmetic benefits because it will be made of all-ceramic material. If you have a seriously decayed, fractured, or chipped tooth, your dentist may recommend a crown. It can also be used along with other treatments, like root canal therapy and a dental bridge.
2. Dental Bonding
A composite resin material can be used to fix minor aesthetic issues, like chips, cracks, or exposed tooth roots. It's customized to match the color of your enamel to blend in with your teeth, so no one will notice it's there. Dental bonding is minimally invasive option to enhance the health and appearance of a tooth without needing a lengthy procedure.
3. Root Canal Therapy
Although root canal therapy has a bad reputation for being painful, the latest advancements in dentistry make the procedure comfortable. An infected tooth can be saved by extracting the inner layer called the pulp. The tooth is sterilized before being sealed with a special material. Finally, a dental crown is placed over it to enhance its function and aesthetics. A root canal is often a viable solution to save a damaged tooth from needing to be removed.
4. Dental Implants
Your dentist in Waverly can rebuild a missing tooth from the root up using a dental implant. It's unlike any other prosthetic because it replicates the entire tooth. As a result, it will closely mimic your natural tooth to provide unmatched benefits. No matter if you've lost a single tooth, multiple teeth, or an entire arch, dental implants can complete your smile.
5. Invisalign
After any oral health issues have been resolved, your dentist can improve your smile with Invisalign. Clear aligners are used to gradually move your teeth into position to correct a variety of bite and alignment concerns. You'll advantage from a nearly invisible orthodontic system to invest in a healthy, beautiful smile.
Improve Your Smile Today
If your teeth are less than perfect, your dentist can restore your dental health and improve your quality of life. They'll create the individualized plan you need to revitalize your smile.
About Dr. Jonathan Smiley
Dr. Smiley earned his dental degree at the Southern Illinois University School of Dental Medicine and completed advanced training at the Dawson Dental Academy. He specializes in creating healthy, functional smiles for optimal oral health. If you're interested in full mouth reconstruction, contact our office today to schedule your consultation.